Latest News
Experience Guildford announces 2019 Customer Service Award winners
20th September 2019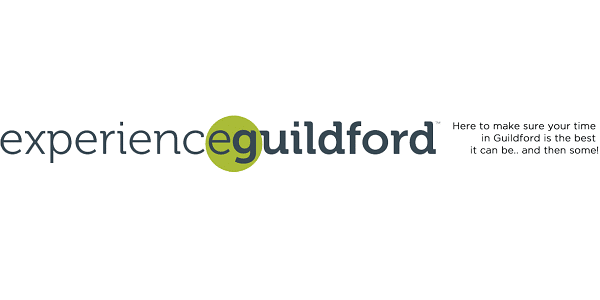 Town centre businesses, local dignitaries and representatives of Guildford enjoyed a celebratory evening at the Yvonne Arnaud Theatre on Monday 16 September as Experience Guildford crowned the town's customer service stars. Now in its seventh year, the Experience Guildford Customer Service Awards have gone from strength to strength with over 3,000 residents and visitors to the town voting for their customer service heroes. Hosted by Charlotte Bateup of the Guildford Fringe Theatre Company, the awards also featured musical entertainment from Kieran Brown who performed a number of blockbuster tracks from stage and screen.
Nominations for each of the award categories were announced in July and since then each shortlisted business has been visited by a secret shopper to be finally crowned king or queen of their category.
Below is a list of the Experience Guildford Customer Service Award Winners for 2019.
---
Best Customer Service – Pubs, Bars and Clubs – The Three Pigeons
Best Customer Service – Coffee Shops – Coffee Culture
Best Customer Service – Restaurants National – Cosy Club
Best Customer Service – Restaurants Independent (Sponsored by The County Club) – Thai Terrace
Best Customer Service – Food on the Go – Goodfillas
Best Customer Service – Health & Fitness – Red Hot Yoga
Best Customer Service – Hair & Beauty – Sanrizz
Best Customer Service – Leisure and Lifestyle – The Electric Theatre
Best Customer Service – Service Providers – White Lion Walk
Best Customer Service – Professional Services (Sponsored by Chapters Financial) – Halifax
Best Customer Service – Retail National small (20 staff or less) – Pure Collection
Best Customer Service – Retail National large (Sponsored by Tunsgate Quarter) (20 staff and over) – Waitrose & Partners
Best Customer Service – Retail independent – The Bear Garden
---
In addition to the public vote categories, the Customer Service Awards also include a Shining Star category, designed to offer managers of individual stores or businesses the opportunity to reward their staff members whom they feel should be recognised for their outstanding contribution to the business. The Shining Star Award 2019 went to Lydia Dwek, sales assistant at Snappy Snaps.
Commenting on winning her award, Lydia says;
"It was such a big surprise for me to win the Shining Star award – I was in fact just happy to be nominated! I always aim to put the customer first in everything that I do, and it seems that by winning this award it's really paid off. I like to be treated with respect, treated kindly and by someone who genuinely wants to help, and those ideals are always at the forefront of my mind whilst serving my customers."
Commenting on this year's awards and the calibre of entrants, Amanda Masters, chief executive at Experience Guildford says;
"Yet again the Customer Service Awards have proved a massive hit with residents, visitors and businesses in Guildford. Each year the calibre of entrants improves, as does the feedback and goodwill we hear from those that have voted, our customers.
"We all appreciate good customer service and more than ever before, good service has become a key deciding factor for consumers when choosing where to spend their time and their money. All of the businesses involved in the awards understand this and strive to offer their customers that something extra, which in turn, maintains Guildford's position as one of the most attractive and prosperous town centres in the South East.
"Thanks to all the businesses who got behind the awards again this year and to everyone who took the time to vote."
Below are some comments from the Customer Service Award winners on the night:
Winner of the Coffee Shops category for a sixth year, Will Gill, owner of Coffee Culture says:
"It's unbelievable to have won again, six times in a row now, we're speechless! Winning this award is completely down to my staff, my manager, and obviously, my fantastic customers. These awards are such an asset to Guildford, and for me, this year the Shining Stars have really shone out as an immensely important category."
Andrew Colborne-Baber, owner of The Bear Garden who also scooped their sixth award in the Retail Independent category continues;
"It's fantastic to win again this year, our sixth time now. As a company, we're committed to concentrating on our customers – we do it week-in-week-out. Putting excellent customer service at the forefront of your business is absolutely crucial in this day and age. With the high street under so much pressure, it's an area where you can very cheapy differentiate yourself from your competitors."
First-time winner of the Leisure & Lifestyle category, Nathan Rogers, artistic manager at The Electric Theatre says;
"We're surprised and absolutely delighted to have won this year, especially as it's our first time being nominated. We've done much to concentrate on good customer service over the last 12-month. Our front of house manager, Emily Clifford, has implemented an entire training schedule for all customer-facing staff and it has obviously paid off. The team here are all very enthusiastic, love what they do and are now working to the desired levels to make a real difference to our customers."
Leonardo Rizzo, creative director at Sanrizz who won the Hair & Beauty category continues;
"For us the high street is changing dramatically. Shops are closing and it's very tough out there. All we can do is our best and for us, it's about doing our best for the people we serve. People attract people and we believe that being friendly, open and caring about what we do will help us grow and help us survive for the future. We're very fortunate that we have an amazing community here in Guildford that we value, and they value us. We're very proud to have received this award tonight and we want to celebrate the success of our team and the hard work they put in every single day for every single customer visits."
---
For more information on the Experience Guildford Customer Service Awards and detail of all the winners visit www.experienceguildford.com
---