Latest News
The Rocky Horror Show Celebrates its 50th Anniversary – Set to Thrill Audiences in Woking This July
14th June 2023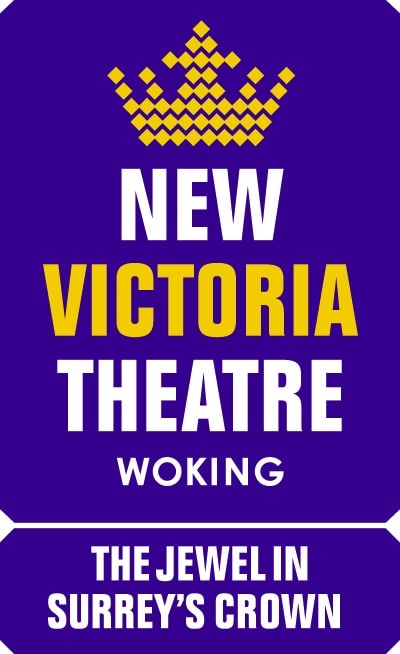 2023 marks the 50th Anniversary of the legendary smash hit musical The Rocky Horror Show, as it gets set to visit New Victoria Theatre Woking from Mon 17 Jul – Sat 22 Jul 2023.
Richard O'Brien's legendary rock 'n' roll musical celebrates 50 years of non-stop partying with this special anniversary production. Since it first opened in London in June 1973 at the Royal Court Theatre The Rocky Horror Show has become the longest continuous run of a contemporary musical anywhere in the world. The show has been seen by over 30 million people worldwide in more than 30 countries and translated into 20 languages as it continues to delight audiences on its sell-out international tour.
 "So fast, so funny, so sexy" – Daily Mail
"Still the sexiest and funniest show in town" – Evening Standard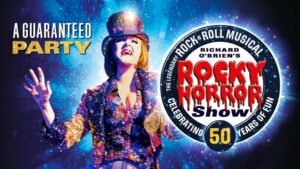 Without doubt the Rocky Horror Show is as iconic as it gets. Lighting up the stage this phenomenal cast will perform songs that are embedded in pop culture. With a whole host of special celebrations to be announced throughout the year, the cast are in full throttle and ready to honour this monumental moment, delivering a guaranteed party that leaps off the stage and transcends into the audience.
This celebratory tour is already thrilling audiences across the UK and the world, including recent sell-out trips to Tel Aviv, Milan, Rome and Trieste.
Producer Howard Panter said: "Rocky Horror has always been a show I loved, since its earliest days in the Kings Road. Richard O'Brien and I are delighted this non-stop party continues to thrill audiences across the world, and we look forward to the next 50 years!"
Richard O'Brien said: "Back in the 1970's when someone asked me to entertain the Christmas staff party at the EMI Film Studios and I turned up with a song called Science Fiction Double Feature who would have known this was the germ of the idea to turn into today what is The Rocky Horror Show. To be celebrating fifty years is beyond my wildest expectations – from the humble beginnings back in 1973 at the Royal Court Theatre in London. The fact that The Rocky Horror show continues to delight audiences as it tours the UK fifty years on is simply thrilling. The Rocky Horror Show is one of Britain's most performed and beloved musicals of all time."
A brilliant cast are already wowing Rocky Horror audiences up and down the country, with West End star Stephen Webb (Jersey Boys/Legally Blonde) continuing in the iconic role of Frank, slipping into a corset and heels with ease, actor Philip Franks (The Darling Buds of May) plays The Narrator, Richard Meek (Hairspray/Spamlot) makes a welcome return as Brad and is joined by fan favourite Haley Flaherty (Mamma Mia/Chicago) as Janet.
Kristian Lavercombe (Jersey Boys/Jesus Christ Superstar) once again reprises his role as Riff Raff, following more than 2000 performances around the world, with Darcy Finden who made her professional debut last year as one of the Phantoms now stepping up to play the role of as Columbia. Ben Westhead (Oliver/The Sound of Music) plays Rocky, Suzie McAdams (School of Rock/Kinky Boots) takes on the role of Magenta and Joe Allen (Little Shop of Horrors/Charlie & The Chocolate Factory) plays Eddie & Dr Scott. Playing the Phantoms are Stefania Du Toit (Starlight Express/Singing in the Rain), Jessica Sole (Into The Woods/Camelot), Reece Budin (Beautiful: The Carole King Musical/Man of La Mancha) and Fionán O'Carroll (Theatre whilst training: Urinetown/Children of Eden) who is making his professional debut. Nathan Shaw (Walk Like A Man) and Tyla Nurden (Funny Girl/Carrie, The Musical) are Swings.
Directed by Christopher Luscombe, The Rocky Horror Show is ready to thrill you with fun and naughty moments, and features timeless classics including Sweet Transvestite, Damn it Janet, and of course, the pelvic thrusting show stopping Time Warp.
The Rocky Horror Show is the story of two squeaky clean college kids – Brad and his fiancée Janet. When by a twist of fate, their car breaks down outside a creepy mansion whilst on their way to visit their former college professor, they meet the charismatic Dr Frank'n'Furter. It is an adventure they'll never forget, filled with fun, frolics, frocks, and frivolity. The Rocky Horror Show is a guaranteed party, which famously combines science-fiction, horror, comedy and music while encouraging audience participation – meaning, of course, getting dressed-up in the most outrageous fancy dress.
The Rocky Horror Show first began life in 1973 before an audience of just 63 people in the Royal Court's Theatre Upstairs. It was an immediate success and transferred to the Chelsea Classic Cinema, before going on to run at the Kings Road Theatre, 1973-79 and the Comedy Theatre in the West End, 1979-80. In 1975 it was transformed into a film called 'The Rocky Horror Picture Show'. This film adaptation took over $135 million at the Box Office and is still shown in cinemas around the world more than 40 years after its premiere, making it the longest running theatrical release in cinema history. Many stars including Russell Crowe, Tim Curry, Susan Sarandon, Jerry Springer, Jason Donovan and Meatloaf have appeared in The Rocky Horror Show over the past 45 years.
In 2015, as part of a sold-out season at London's Playhouse Theatre, a special star-studded Gala charity performance in aid of Amnesty International was broadcast to over 600 cinemas across the UK and Europe. The live screening – featuring a host of celebrities playing The Narrator including Stephen Fry, Mel Giedroyc, Emma Bunton, Ade Edmondson, Anthony Head and Richard O'Brien – smashed box office records and was the biggest grossing film in cinemas across the UK. The performance was subsequently screened on the Sky Arts channel.
Ready to thrill you with fun and naughty moments, The Rocky Horror Show is the boldest bash of them all. But be warned, this show has rude parts!