Chamber Helplines, Template Documents and Policies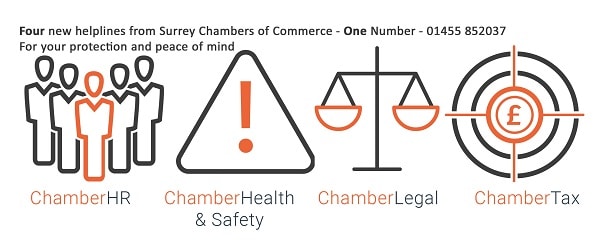 Members of Surrey Chambers have access to four key services for your protection and peace of mind, all for free:
ChamberHR – advice line and website resources
ChamberLegal – advice line and website resources
ChamberH&S – advice line and website resources
ChamberTax – advice lines for taxation and VAT
All of these advice lines will be accessed via one phone number – 01455 852037, with the HR and legal lines available 24/7, 365 days a year.
The website resources require a password provided by Surrey Chambers of Commerce to all members and once logged in users will have access to a document library with over 750 free downloadable template documents covering employment, health & safety and legal matters. By integrating these services into our current offering it also reminds our members that within Surrey Chambers of Commerce we have experts in every area and once advice has been sought they may then work with fellow members.
For more information, or to search through the online resources library, please click here.
Alternatively, click here for the Four Services information handbook.
If you have any further questions please contact us on 01483 735540 and we will do our best to help.