Letter of Credit
Getting paid on time and securely is the most important financial consideration when trading internationally, a Letter of Credit will ensure that you avoid problems when it comes to payment.
Surrey Chambers of Commerce is working in association with Business West and Acorn International to offer a fully managed Letter of Credit service to help relieve the additional pressure that Letters of Credit can bring.
What is a Letter of Credit?
A Letter of Credit is a guarantee issued by a bank assuring payment of goods. The Letter of Credit will have strict terms specifying the amount of money to be paid, time frame and documentation required.
How can we help?
Over 75% of exporters who do their own Letter of Credit do not get paid due to incorrect paperwork. We have a reputation for getting it right first time. By using our service you will: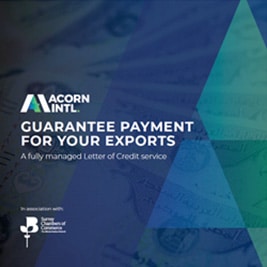 Save time and money
Secure payment for goods exported
Avoid bad debts
Enhance your reputation for efficiency and reliability
Increase your profitability
What does our Letter of Credit service include?
Advice on Letter of Credit terms
Assurance that all Letter of Credit terms are met
Preparation of all shipment documentation
Full visibility of documents online
Liaison with freight forwarders, shipping companies, inspection agents etc.
Compliance check for third party documents
Advice on Incoterms 2010
Strong relationships with major UK banks
Presentation of all documentation to the bank within agreed deadlines.
To speak to one of our expert trade advisers about how we can help your business with Letters of Credit, please contact 01275 774958