Our Partnership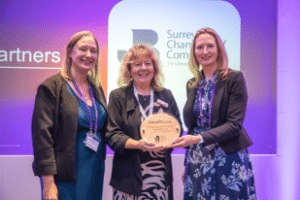 Heathrow is one of the world's busiest international airports, flying to over 200 destinations worldwide, with 90 airlines and acting as the UK's largest port by value.
Being a member of Surrey Chambers of Commerce is essential to any business that considers itself to be local and connected to Surrey. Surrey Chambers of Commerce works closely with all eleven local boroughs around the county as well as Surrey County Council. We work together to encourage local economic growth and stability.
Surrey is one of the most successful and productive areas for business in the UK. With an economy worth over £40bn and a net return of taxes of more than £6bn to the government, it's a county that embraces innovation and is a fantastic location to run a business.
Heathrow is proud to be a longstanding member of Surrey Chambers of Commerce. Working in partnership, together we are better able to deliver on our commitments to help develop skills, create jobs and encourage growth in Surrey.
Click here to learn more about Heathrow