Latest News
New! "Monday LIVE" Show On PGTV
15th June 2023

The know-how available to you on tap during a fitting at Precision Golf is exceptional and highly personalised to your specific game. We pride ourselves at being the best in the business when it comes to the deep expertise you can access when working with one of our fitters. But what if you don't need a fitting right now, and are still keen to build your understanding of the game and your equipment? The answer is our YouTube channel, PGTV. Our mission is to make more of our knowledge available and still relevant to you, without you even having to come to the Studio.
Our new live stream show, "Monday LIVE", is hosted by Simon and Stuart and will hopefully become compelling viewing for golf fans. We had been running live forums on a Friday lunchtime, but your feedback pointed to a Monday evening slot being the best timing for maximum participation. The show goes out live at 6pm every Monday (holidays and acts of God allowing) and includes a look at any hot topics from the weekend's tour action, plus any other golf-related stories or news that gets us excited. Of course we're also here to answer all your questions, live. Judging by the stream of technical questions coming at the guys in the last few shows, the new format is going to be a hit.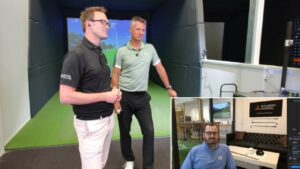 The tech whizzes at PG (namely James, aided by Peanut the company beagle) have also added the capacity for remote guest interviews, bringing a fresh dimension to proceedings. The image above is from the show on 22nd May which featured Preston Toulon, of Mitsubishi Chemical Sporting Goods. Preston, who we know well from various industry events over the years, joined us live from Carlsbad, California for a very insightful discussion. Brooks Koepka just happened to win the US PGA playing Mitsubishi's Diamana D Limited shafts, and so it was great to hook up with Preston the day after Brooks' win and have him share with us the performance characteristics that have been designed into their shafts.
Our plan is to build a lot more of this kind of highly relevant content into the Monday LIVEs and bring you a consistently interesting and informative show. Please join us for the next show coming up on Monday and get involved in the discussion. We're looking to give away a free box of Pro V1s for whoever asks the best or most liked question!