Latest News
Croxsons Relocates to New Offices
19th May 2023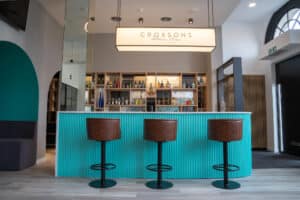 Former Sutton-based family business, Croxsons, has returned back to the town from its previous home for 40 years in nearby Morden. The leading glass packaging supplier, which celebrated its 150th-anniversary last year, has moved into the refurbished old post office building on Grove Road. The investment has turned a once near-derelict site into a future-ready, purpose-built workspace, providing an engaging environment for the whole Croxsons' team.
Designed and project led by Windsor-based interior design consultancy, Blue Jelly, the new office is the culmination of a five-year plan. With an emphasis on ideation, the premises has been created to promote creative discussions and be inspirational, with the inclusion of a bespoke bar allowing customers to imagine how their brand will look in context.
With their new environment fully matching their culture, Croxsons are confident that future collaborations in their new setting will undoubtedly benefit both their high-performing team and their customers alike.
Tim Croxson, Croxsons CEO, said: "The space is unique – how we will use it will demonstrate the way that we choose to operate as a business. The appeal of the new office reflects our culture throughout – one team, a big family that works together, moves forward as one and is high performing and aspirational. We have created an environment to help foster that."
Given the building's heritage, Croxsons also wanted to ensure the space reflected the site's past history – an old postman's bike hangs on the wall above the sales suite, and it even has its very own post box.
"Given our close ties with the town, it felt appropriate to be moving into one of Sutton's iconic buildings. There's a lot of heritage in the building, so our plan was to re-invest in the local area and continue that legacy in our own way," added Tim. "It's also important to us to support our workforce who live locally and to be able to recruit locally when required."
Croxsons, who recently won two awards at the local SME Surrey Business Awards, is planning an official opening of their new premises during the summer months.