Latest News
London Gatwick Seeks More Deserving Causes in Surrey
31st May 2023

London Gatwick is looking for more good causes to support in Surrey through round three of the Gatwick Foundation Fund.
The fund has £33,000 to donate and is asking for charities and community groups in the county to step forward.
The deadline to express an interest in applying is 12 June, and to apply for funding it's 24 July.
Each year, three rounds of grants totalling £100,000 are made available to beneficiaries in Reigate and Banstead, Tandridge and the Mole Valley area.
Melanie Wrightson, stakeholder engagement manager at London Gatwick, said: "It's very important to everyone at London Gatwick that we support our local community.
"As well as providing employment to many people throughout Surrey, we also want to bolster those charities and organisations that are doing such great work in the region."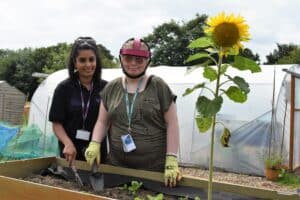 Amongst the previous recipients of the Gatwick Foundation Fund is Mary Frances Trust, a mental health charity offering free wellbeing support to adults aged over 16 in Banstead, Elmbridge, Epsom and Mole Valley.
Christine Schauerman, programme manager, Mary Frances Trust said: "We were delighted to have received this vital funding from the Gatwick Foundation Fund via The Community Foundation for Surrey. The funding will give an opportunity for asylum seekers to learn some basic English, alongside this we will be providing them with some emotional wellbeing support." 
Another previous recipient is YMCA East Surrey which received funding from the Gatwick Foundation Fund towards starting up a new sensory group for young adults with Autism Spectrum Disorder and learning difficulties.
Matthew Lole, senior disability coordinator, YMCA East Surrey, said: "Funding from the Gatwick Foundation Fund will go towards our LifeWorks project supporting young adults aged 16+ with disabilities.
"The funding will allow us to start an important new sensory project that enables individuals with Autism Spectrum Disorder (ASD) and learning difficulties, who have higher levels of need, to achieve their potential.
"By providing this opportunity, we hope to build stronger connections with families and residential care homes and expand the reach of YMCA LifeWorks to those in need."
Melanie Wrightson added: "So far we have contributed to 88 good causes in Surrey because we believe it's important that everyone in the community benefits from the success of the airport.
"We want all those who are eligible to come forward. We award grants to support a number of important issues in the region, contributing towards everything from specific projects to everyday running costs. Get in touch if you need our help."
The Gatwick Foundation Fund was set up in 2016 to award funding to local groups that work to fight social isolation and tackle disadvantage, raise aspirations and develop skills, improve health and wellbeing, and support children and young people.
The Gatwick Foundation Fund is managed on behalf of London Gatwick in Surrey by the Community Foundation for Surrey.
To apply for funding from the Gatwick Foundation Fund in Surrey, please go to: https://www.cfsurrey.org.uk/.