Latest News
Surrey Choices Celebrates Staff at the Recognising You: Colleague Awards 2022
22nd December 2022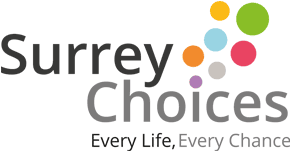 This month Surrey Choices celebrated staff across the organisation at the Recognising You: Colleague Awards at The Gorse Hill Hotel in Woking. Colleagues, friends, and Surrey Choices Board Members came together to recognise this year's winners.
Colleague Awards
Recognising You: Surrey Choices Colleague Awards 2022 are to celebrate outstanding practice and achievements by Surrey Choices colleagues, and to acknowledge those who are dedicated and committed to making a difference to the people that Surrey Choices support. The awards highlighted those who have demonstrated outstanding qualities, embed Core Values into their work and provide inspiration to others daily. The judging is done against set criteria, by colleagues and a panel of disabled people.
Among the attendees were Jane Earl, Stefan Nahajski, and Councillor Riasat Khan who are all Non-Executive Directors for Surrey Choices.
Winners
There were five awards categories. The Bright Ideas Award recognises colleagues who have demonstrated creativity and innovation in their work. Award winner Cheryl Knight took on the role of leading Travel Choices service. Her determination helped her come up with creative ways to support young people to travel independently and keep them engaged whilst ensuring people are happy and safe.
The Giving 100% Award recognises those who have gone above and beyond to their job role which has made a difference to the experience for the people Surrey Choices support, their families and Carers, and to other colleagues. Award winner Eleri Green consistently performed beyond her job requirements  within Community Choices both within her role of supporting disabled people and her colleagues.
The Working in Partnership Award is to recognise those who have developed meaningful partnerships with other organisations and shown co-production which have benefited disabled and autistic people, colleagues and the community. Award winner Mark Evenden has been pivotal in driving changes in working with the Growth Team. He has networked with many partners which has led on to the team working on new sites, being able to teach people new skills, and also driving the vision of working in partnership with others.
The Dream Team Award is to recognise a group of people or a team who have worked together to achieve positive outcomes for the people Surrey Choices support. Award winners The Duke of Edinburgh Team proactively, consistently strived  to ensure that Surrey Choices' first cohort of participants had an amazing experience gaining their Duke of Edinburgh Award. This included physical, learning and volunteering outcomes and a two-day trip away to Surrey Outdoor Learning and Development.
The My Hero Award is a category for the people Surrey Choices support and their families and Carers to nominate employees of Surrey Choices who have made a real difference to them and who have gone the extra mile. Award winner Amy Hammond was nominated by a parent who was at crisis point during the pandemic as they had run out of vital pads for personal care for her son. Amy stepped up and delivered for that family.
Reaction
What a joy to be able to celebrate our colleagues in this way and in these lovely surroundings! My warmest congratulations to them all.  – Mette Le Jakobsen, Managing Director
It was a real privilege to be with Surrey Choices colleagues, hearing the inspiring stories of what teams and individuals do every day in a quiet and unsung way to improve lives for people they support and their families. – Jane Earl – Non-Executive Director
Impact  
The Surrey Choices Recognising You: Colleague Awards had a profound impact on everyone in the room. From tears of joy, cheering, and laughing, the guests walked away feeling inspired and proud to work for Surrey Choices. The Awards shone a light on people's personal achievements, growth and fulfilment with Surrey Choices. The videos and pictures on the day showed a real sense of unity and  camaraderie within the organisation as the New Year approaches.
You can learn more about all the winners here – 2022 Recognising You Colleagues Awards – YouTube