Latest News
Murder Mystery Christmas Parties… on a Boeing 747!
14th June 2023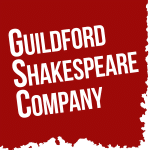 In a theatrical first, this winter Guildford Shakespeare Company will be taking audiences onboard a retired British Airways Boeing 747 aircraft at Dunsfold Aerodrome for a truly unique interactive theatre show.
The show: December 1979. Ariel Airways Flight 1564 is ready for take-off. Flight Attendant Juliet Bravo has run through the pre-flight checks and the passengers are all set for a Christmas to remember in sunny Tenerife. As the engines begin to roar and Flight 1564 taxis to the end of the runway, Co-Pilot Mike Oscar has to take evasive action as Captain Charlie Romeo suddenly collapses at the controls.
Stranded at the end of the runway with no more than a packet of peanuts and a pink inflatable rubber ring, Juliet and Mike must keep their heads and maintain passenger safety. …but can they discover the identity of the Captain's murderer before the emergency crews arrive?
Devised by the company, written by Eleanor Murton and directed by GSC's Co-Founder Matt Pinches, BOEING, BOEING, GONE! is based on GSC's hugely popular Murder Mystery series (★★★★ "Terrific fun" Daily Mail). 'Passengers' will visit different parts the aircraft as scenes are played out before them and interrogate the suspects to uncover whodunit.
The production has been made possible by Jim McAllister, Chief Executive, The Rutland Group, and Mike Woodley, Aces High who have granted GSC permission to use the iconic aircraft free of charge to help raise funds for the theatre company.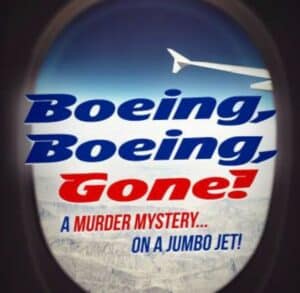 Matt Pinches: "This promises to be a really fun and immersive experience and we can't wait for our audiences to share a truly special event. With plenty of laughs, twists and turns along the way, Eleanor's script, and the aircraft itself, promises a Christmas party to remember. We've had a blast devising this interactive show and are indebted to Jim and Mike for giving us this fabulous opportunity."
The aircraft: G-BNLY City of Swansea is retro-liveried in the iconic Landor livery for British Airways' centenary, and was one the last two 'Queen of the Skies' in the BA fleet before its retirement in 2020, having flown over nearly 60 million miles.
Ahead of public booking opening on 11 July, GSC are giving businesses an opportunity to make group bookings for book private Christmas parties. These are suitable for up to 60 people, and cost £2250, though smaller groups can be accommodated. The private 90-minute experience includes a glass of prosecco (or non-alcoholic alternative), mince pie and programme for each guest.
Corporate group bookings can be made Monday – Thursday, 28 November – 14 December. Times can be fairly flexible but a 5pm start for private parties is recommended.
With a strictly limited run of tickets and performances, make sure you reserve your seat for GSC's latest show before they're Boeing, Boeing, Gone!
BOOKING DETAILS
For bookings and enquiries contact Saffron Waller (admin@guildford-shakespeare-company.co.uk).
Public Booking opens 11 July Priority Friends' Booking opens 5 July
More details on the event can be found at https://www.guildford-shakespeare-company.co.uk/boeing-boeing-gone/
ACCESS
It is with regret that due to the confines of the aircraft and the need to use boarding stairs, this performance is not accessible for wheelchair users.
Online 'At Home' performances of Boeing, Boeing, Gone! on 19 & 20 December, 7.30pm will be available to book following the run on the aircraft. Tickets £20 per device, for up to 2 persons watching.
BOOKING & FURTHER DETAILS
www.guildford-shakespeare-company.co.uk