Latest News
HSBC UK COMMITS £450 MILLION FUND TO SUPPORT SURREY AND SUSSEX SMEs
23rd October 2018
***£450m fund available to SMEs in Surrey and Sussex ***
***£100m set aside for SMEs either already trading or aspiring to trade internationally***
***Part of UK wide £12bn HSBC UK SME fund***
HSBC UK has recently launched a £450 million lending fund to support small and medium-sized enterprises (SMEs) in Surrey and Sussex which is part of a broader commitment to helping British businesses realise their ambitions for growth.
The Surrey and Sussex fund is part of a wider £12bn fund for SMEs across the UK which has also been launched. Now entering its fifth year, HSBC UK's dedicated SME Fund is the largest to date – increasing £2bn on last year after the 2017 fund was fully utilised by British businesses seeking to expand.
This SME Fund is double the first SME Fund of £6bn – launched by HSBC in 2014 – and brings total funds committed to SMEs over the five years to £46bn. In Surrey and Sussex the fund has increased by £150m since 2017.
Andrew Steer, Head of Business Banking, Surrey and Sussex for HSBC UK, said: "This latest fund highlights HSBC UK's unwavering commitment to supporting the growth of SMEs right across Surrey and Sussex. Each year the fund helps and encourages businesses to grow locally, national and internationally, in turn helping them achieve their ambitious goals and create jobs for the Surrey and Sussex economy. We hope to see many more businesses throughout the area taking advantage of the fund over the coming months and into next year."
"A major focus of this year's fund is to encourage small businesses to feel confident about exploring opportunities for overseas trade. As such, £100 million of the lending fund for Surrey and Sussex has been designated to help support SMEs that aspire to trade internationally, or wish to grow their existing international business. With a geographic network covering more than 90% of global trade and capital flows, HSBC UK is uniquely placed to help businesses to understand the available markets and overcome the obstacles to growth."
Brian Weare, Regional Director, South and East for HSBC UK, added: "Many SMEs in the South East are ambitious, entrepreneurial and ready to expand. After the success of last year, this increased SME Fund for 2018 will help more businesses plug the gap between ambition and reality, supporting their growth. HSBC UK is committed to helping businesses in the South East innovate, evolve and grow."
"HSBC UK can provide access to new trading networks for businesses of all sizes, help them to understand how they can consider trading globally with confidence, and has the expertise to help businesses navigate change by being responsive, flexible and nimble. Now is the time to consider new trading relationships."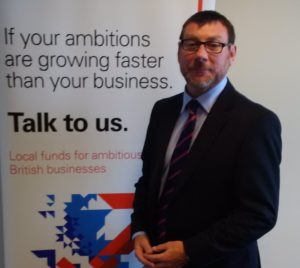 HSBC UK 2018 SME Fund and broader package of support includes:
 A £12bn UK-wide fund for SMEs, allocated regionally across the UK.
 A free banking offer of up to 18 months for start-ups and 12 months for switchers.
 A 12 month fixed-price monthly tariff to commence at the end of a customer's initial free banking period.
 A Personal Guarantee Fee of just £10 for any lending facility above £10,000.
 An arrangement fee of £100 for Small Business Loans up to £25,000.
 The Business Lending Eligibility Checker (BLEC) – an online tool offering potential new customers and existing customers a credit decision in principle for loans of up to £30,000 in under two minutes.
 A free text alert service for informal overdrafts, which will help customers avoid paying informal overdraft fees and interest.
Terms and conditions apply