Latest News
Charles Russell Speechlys Wins Business in the Community Award  
23rd October 2018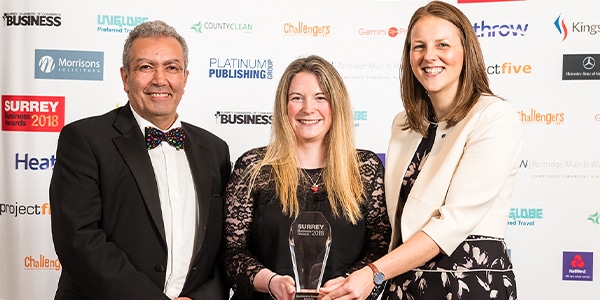 23 October 2018 – Charles Russell Speechlys in Guildford has been crowned winner of the Business in the Community Award 2018 at the Surrey Business Awards in recognition of its outstanding focus on philanthropy and community engagement.
The law firm impressed the judges with the success of the Charles Russell Speechlys Community Fund which was established in 2016 in partnership with the Community Foundation for Surrey to support projects in and around Guildford focusing on employment, training and skills initiatives. Over the last two years, the Fund has supported 11 inspiring projects to give local people opportunities which they otherwise would not have, and has awarded grants of over £15,000. Grant recipients include Skillway, The Therapy Garden, Wey House School and Change of Scene.
A volunteer panel of lawyers and support staff from the firm's Guildford office evaluates and awards grants, with a number of Charles Russell Speechlys' employees subsequently volunteering for some of the grant recipients. This creates long-lasting relationships with many of the charities which have been supported by the Fund.
Sally Ashford, Partner, Charles Russell Speechlys commented, "As a leading law firm advising charities and individuals on their philanthropic interests, it was a natural step to establish our own charitable initiative to create our own legacy in our community.
"We are incredibly proud of the Charles Russell Speechlys Community Fund and what we have achieved in a short space of time. Whilst the grants have made a significant financial difference to a number of local organisations, for us the impact goes far wider than simply writing a cheque. It is about getting involved in some truly inspiring projects, engaging with our workforce and making a real difference to our community. We are thrilled to have won this award – it is a fantastic endorsement of the contribution we are making to the Surrey community."
The Business in the Community Award was sponsored by Kingston Smith, with the judging panel consisting of representatives from a range of leading organisations including NatWest, Heathrow Airport, Sandown Mercedes-Benz Surrey Business School and Surrey Chambers of Commerce.
Louise Punter, CEO of Surrey Chambers of Commerce and Chair of the judging panel adds, "The Business in the Community Award was created to recognise local commercial organisations who are doing the most to develop initiatives which give something back to the community, initiatives' which are beyond their business objectives.  Charles Russell Speechlys is a very worthy winner of this award – their commitment to philanthropy and engagement with the Surrey community is highly commendable."
Charles Russell Speechlys employs over 150 staff in its Guildford office at One London Square and provides a full range of services to businesses and private clients in the region, backed by the resources of an international law firm. For further information, please visit www.charlesrussellspeechlys.com