Latest News
University of Surrey Generates £1.3 Billion for the Surrey Economy and 17,500 Jobs
29th March 2023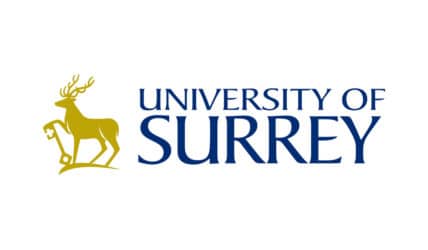 An independent economic report published today confirms the significant contribution by the University of Surrey to the local economy in 2020/21, despite the impacts of the Covid-19 pandemic.
The report reveals that the University of Surrey supported over 17,500 jobs in the county of Surrey during the pandemic-hit year, with the University contributing a gross value added* (GVA) of £1.3 billion to the county's economy. This is an increase from the academic year 2018/19 when the University supported more than 14,400 jobs and contributed a GVA of £1.2 billion to Surrey's economy.
The University of Surrey Economic Impact Report [link] was produced by independent economic consultants BiGGAR Economics. The report details the ways the University's research and innovation contributes significantly to economic growth by supporting firms with their own research and development, directly commercialising University research, and through the impact of the University's graduates. Collectively, these activities added £194 million GVA to the Surrey economy, and supported more than 700 jobs in the county.
Caroline Fleming, Director of Innovation at the University of Surrey and Interim Director of the Surrey Research Park, said:
"We are a world-class University producing research that transforms lives worldwide, but I am particularly pleased to see this report confirming the tremendous economic and employment impact we have within our local communities, as well as across the UK.
"The University of Surrey remains a dynamic and forward-looking organisation that is proud of its positive contribution to Guildford, the County of Surrey and the whole UK."
The largest national economic contribution of the University comes through its innovation activities which generated £660 million GVA for the UK economy, a 4.5% increase on 2018/19, and supported over 7,640 jobs in 2020/21, up 26.4% from 2018/19. These activities are the support which the University provides start-ups through SETsquared Surrey and the impact of the Surrey Research Park.
The report also captures the direct impact of the University's expenditure. For example, the report highlights how the University's supply chain helps boost the local economy by generating more revenue and job opportunities for suppliers in Guildford, in Surrey and across the UK. Specifically, 8% of the University's supply chain spending went to businesses located in Guildford, 16% was spent on suppliers in Surrey, and 94% was spent with suppliers based in the UK.
The report shows that the University of Surrey contributed £1.9 billion to the UK economy in the academic year 2020/21, this is up from £1.8 billion in 2018/19.
The University's student community generated £146 million GVA to the Surrey community and supported 4,650 jobs. This positive economic contribution was made through part-time employment, volunteering and starting businesses.
You can read the full report on the University of Surrey's website.
…
At a glance
Impact on the county of Surrey
2018/2019
2020/2021
Increase
Overall

£1.2 billion GVA
£1.3 billion GVA
+8.3%
Supported 14,490 jobs
Supported 17,620 jobs
+21.6%
Supply chain

£7.6 million GVA
£13 million GVA
+71.1%
Supported 118 jobs
Supported 260 jobs
+120.3%
Student impact (e.g. part-time jobs, volunteering)
£119.9 million GVA
£146 million GVA
+21.8%
Supported 3,140 jobs
Supported 4,650 jobs
+48.1%
Innovation and enterprise

£574.4 million GVA
£600 million GVA
+4.5%
Supported 6,043 jobs
Supported 7,640 jobs
+26.4%