Latest News
Plans Lodged For Major Woking Offices Development
16th November 2023

Acklam Group has now submitted plans for a 136,000 sq ft 11 storey Grade A office development with retail, leisure and hospitality units on the ground floor that will create over 1,000 new jobs and provide significant economic and social benefits to Woking Town Centre.
The application has now been validated and can be viewed within Woking Borough Council's planning portal by inputting the reference PLAN/2023/0835
If you would like to support the proposals, please follow the link above to search for the planning application, using the reference number above.
If you would like to make a comment or need any further information then please contact The Acklam Group
The Proposal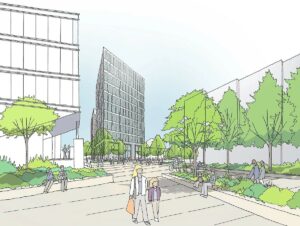 Woking Town Centre has a significant shortage of high quality Grade A office space and so new office developments like this are needed to drive investment into the town and boost the local economy.
The proposed development will provide accommodation for all types of business, from local SME's to large national corporations. It also considers the needs of the town and provides significant social and economic benefits, including:
136,000 sqft of highly sustainable, Grade A quality office space
New flexible restaurant, café and retail spaces
Supporting night time and daytime economies
High quality new public realm and landscaping
High quality design that responds to the local context
1,000+ Additional Jobs created by the development.
Encouraging sustainable travel with cycle facilities
£66m per annum of additional Gross Value Added to the economy upon completion