Latest News
Experience Guildford to Host 'A Safe Place' Open Day – Saturday 17th June
17th May 2023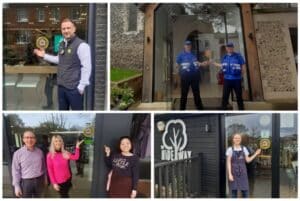 Come and learn more about the nationally recognised Safe Place scheme in Guildford and what the town is doing to support vulnerable people when they visit at an open day hosted by Experience Guildford at St Mary's Church, Guildford on Saturday 17th June, 9.30am to 12.30am.
Guildford town centre has been recognised and registered with the National Safe Place Scheme since 2021. The scheme helps support vulnerable young people and adults by providing a network of safe places around the country where individuals can find a warm and friendly face and necessary refuge.
The scheme is available to anyone who might feel vulnerable or scared when out in public places. This could include someone with a learning disability, sensory impairment, autism, dementia, mental health issues or physical disabilities, as well as those affected by domestic abuse.
Delivered by Experience Guildford and Guildford Borough Council, Guildford's Safe Place scheme currently has 21 registered Safe Places throughout the town, signposted by a 'Safe Place' window sticker and with staff trained in delivering a warm and welcoming environment, with the necessary links to local support agencies.
The planned open day on 17th June aims to raise awareness of the scheme to residents, visitors and local businesses, and the range of support available. There will be a selection of local outreach and support services exhibiting at the event, offering information and presentations about the services that they provide to the public. There will also be the opportunity to network with Guildford's registered scheme members, plus key charities and agencies such as Guildford Action, Homeless Outreach Support Services, South West Surrey Domestic Abuse Outreach Services, Real Change Guildford and  Guildford Town Centre Chaplaincy, alongside representatives from Surrey Police and the Experience Guildford Town Rangers. A Safe Place scheme member, Waitrose, will also be supporting by providing refreshments at the event.
Commenting on the open day, Emma White, Town Safety & Venue Liaison Officer at Experience Guildford says;
"Guildford's Safe Place scheme is a fantastic initiative, which, thanks to the many partners involved with its delivery, has gone from strength to strength. Our open day hopes to extend this success, by both communicating to the public the benefits of the scheme and how they can take advantage of it, as well as inspiring other town centre businesses to get involved."
For more information on Guildford's Safe Place scheme and the forthcoming open day, and to view the town's network of registered venues, visit  www.experienceguildford.com/safe-places-guildford