Latest News
Hartsfield Manor Wins SME Surrey Business Award
20th February 2023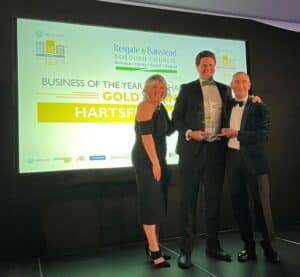 Hartsfield Manor, based in Betchworth, was recently awarded Surrey Business of Year at the recent SME Surrey Business Awards held at Epsom racecourse.
Hartsfield Manor is a stunning 19th Century manor house set back along a sweeping driveway amongst 16 acres of beautifully maintained grounds. Built originally as a family home, it was purchased by the current owners, Manor Collection, in 2016.
The company were presented this award for recognition of the exceptional success the business has seen over 2022. Delivering over 90 weddings as well as running a busy hotel, meeting and events venue.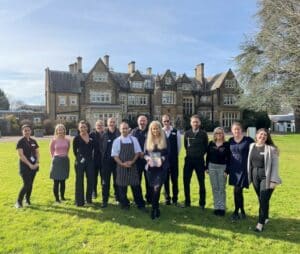 Operations Director, Giles Thomas, declared that the entire team at Hartsfield Manor will be thrilled with the recognition. Speaking just after collecting the award Giles said "The team at Hartsfield Manor have worked incredibly hard over the past 12 months. Their vision for growth, their team spirit, how they've worked together to deliver exceptional service for our guests and clients each and every day has been a pleasure to work with. Recognition through this award is a testament to how their drive ensures Hartsfield Manor is the fabulous venue that it is."
For further information on Hartsfield Manor please see www.hartsfieldmanor.co.uk