Latest News
Guildford's innovators celebrated at awards night
9th December 2019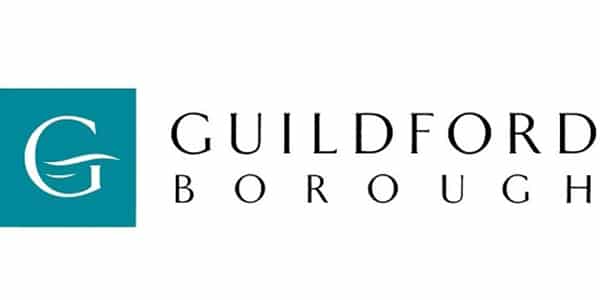 Guildford's dynamic innovators were recognised at the Innovation Awards ceremony at the Harbour Hotel last night. The annual awards celebrate inspirational innovation across a broad spectrum of sectors in the borough – building upon the theme of supporting Science, Technology, Engineering and Maths (STEM) subjects.
Guildford is a hub for innovation and the centre of the UK games industry and our annual Innovation Awards highlight the latest advances in technology and business across the borough this year. The awards are open to individuals, businesses and social enterprises.
As one of the most vibrant towns in the South East, Guildford features regularly in the top five of various economic league tables particularly around innovation, entrepreneurship, access to investment and the number of start-up businesses.
Chris Burchell, Local Economy Manager at Guildford Borough Council says: "The Innovation Awards celebrate the best and brightest that our borough has to offer. From retail to healthcare, science to the voluntary sector, our businesses are embracing new technologies and ways of working to deliver the inspiring changes that will help drive Guildford forward. Among our award winners this year we have recognised those who are coming up with innovative ways to care for the environment. We declared a Climate Emergency in July and tackling climate change on a local level is a key priority for us. We recognise the important role the local business community has to play in supporting this aim in collaborating with us to fulfil the aim to be a carbon neutral borough. Congratulations to this year's winners and all who entered. I look forward to following the inspirational future developments in all of these fields and the positive impact they'll have in our borough and beyond."
Ben Horsley-Summer, Marketing Manager for Kyan, overall sponsors of the event, said: "We're delighted to sponsor the Innovation Awards for the second year running. Guildford has so much to offer. Of course, we are the Hollywood of Gaming, but we're also excited by the innovation and drive shown to us by people working in care, retail, charity, creative and emerging tech. And these innovators are from all walks of life. The diversity of thought in Guildford is inspiring, and we always look forward to celebrating the achievements of tomorrow's digital heroes."
This year's winners are:

Innovation in Retail – sponsored by Experience Guildford
Mandira's Kitchen – from informal supper club in 2016, to award winning caterer in 2019, the rise and rise of our winner could best be described as remarkable. Mandira's Kitchen creates delicious meals using fresh, local produce, family recipes and lots of love.

Caring for the environment – sponsored by Dunsfold Park
Ben Luxmoore, Kuusi – the winner has looked at waste awareness and created a sensor that analyses and uploads waste and recycling habits to the internet, to educate the public on waste management, the aim being to prevent thousands of tons of recyclable materials from going into landfill.
Innovation in Healthcare – sponsored by The Whiteley Clinic
The Vets School – work in the winner' research group involves the use of a range of computational algorithms for the analysis of electrocardiograms taken from horses. Their technique could be very easily and cheaply integrated in the digital ECG recording devices used in veterinary practice and could cross over into human health with significant benefits to patient care.
Innovation in the Voluntary and Charity sector – sponsored by Tunsgate Quarter
Alcis – our winners in this category provide innovative and world class Geographic Information Services that enable better understanding, decisions and outcomes for their clients, typically aid agencies operating in the most challenging environments leading to a vastly improved quality of life for the world's most vulnerable.
Innovation in the Creative Industries Sector – sponsored by Charles Russell Speechlys
Play Well For Life – our winning company brings the fun of games to the serious business of improving mental health, using evidence-based psychology principles. Their first digital product is Furry Feeling Frenzy, a music and game based smart phone app to improve the mental health of young people in education.
Emerging Technologies 'Tomorrow's World' – sponsored by Butt Miller
Technics Group – the winner delivers an accurate, robust and reliable localisation system which is essential for the widespread adoption of connected and autonomous vehicles (CAV's for short) which are planned for deployment across a wide range of sectors.

Young Business of the Year – sponsored by HR Department
The Wiggly Line – the winner uses technology and data to improve lives, and they are currently doing so in Health and Social Care with their first product Streamcare. This is a system that uses sensors in care homes and hospitals to remotely monitor residents' safety, keep staff informed with real-time data and help residents sleep better at night.
Digital Marketing – sponsored by Red Hot Penny
Air Social – the winner delivers hundreds of different social media and digital advertising campaigns per year for clients. A recent example of this is the #ThankYouSurrey campaign they created for a well-known estate agency that engaged with thousands of Surrey residents and charities.

Shooting Star – sponsored by Polystream
Omar Ebeid – the winner in this category has developed a seamless mobile payment loyalty app available on both App Store and Google Play. It integrates digital loyalty stamps with payment gateways to create an easy, rewarding payment system.

Most Outstanding Innovation – sponsored by Kyan
The Vets School – this year's award for Most Outstanding Innovation goes to an organisation which, in the midst of groundbreaking research with huge potential to help humanity, has found time to invest in a voluntary programme to identify, tackle, reduce and educate about a worldwide ecological threat. That project operates from Guildford to Malaysia and beyond, connects humans with the wildlife with whom we share our space and is called the Animal Neighbours Project.
---