Latest News
Air Ambulance Charity Kent Surrey Sussex Unveils Five Year Strategy: 'Working Together to Save More Lives'
30th September 2022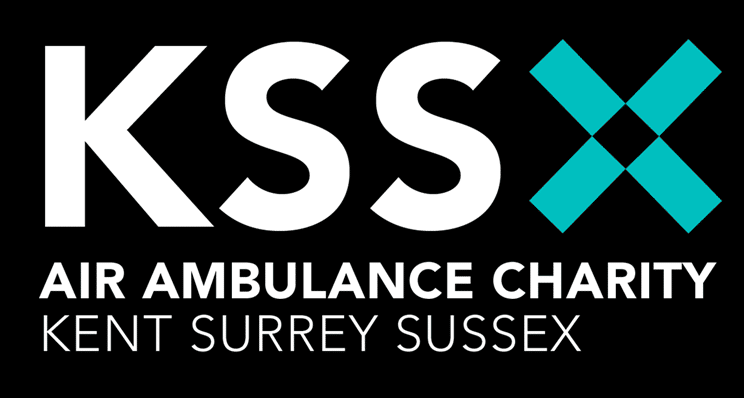 Air Ambulance Charity Kent Surrey Sussex (KSS) has unveiled its ambitious Five Year Strategy (2022- 2027) 'Working Together to Save More Lives', created to help take important steps towards realising its vision of an end to preventable loss of life from medical emergency.
With demand for its world-leading pre-hospital Helicopter Emergency Medical Service (HEMS) at an all-time high, KSS has set out ambitious plans to develop its core life-saving service, to build on its Research and Innovation Programme and to introduce new Patient and Family Aftercare and community-based initiatives. Through even closer collaboration with key partners including South East Coast Ambulance Service (SECAmb), the wider NHS, other charities and with the communities they serve, KSS is committed to reaching more patients, improving more outcomes and working together to save more lives.
An Ambitious Strategy
Following the busiest year in its 32 year history in 2021, during which KSS responded to 3,051 incidents including medical emergencies, road traffic collisions and accidental injuries, 2022 is proving to be even busier. KSS's Five Year Strategy focuses on meeting this growing need through the development of the charity's core service, which takes the emergency room to the scene 24/7 to deliver life-saving care.
The Strategy also enables KSS to evolve and extend its service, with the introduction of innovations and initiatives to save even more lives amongst the 4.8 million people who live in Kent, Surrey, East Sussex and West Sussex plus the many millions more who travel through the region every year. These include:
Developing its aviation capability – this includes developing all weather aircraft operations through performance based navigation.
Continuing to deliver outstanding pre-hospital emergency medicine – developing KSS's clinical leadership and clinical governance structure to further develop the charity's consistently high standards of clinical care.
Implementing its research and innovation outputs – this includes investigating the drone deployment of defibrillators and continuing to develop techniques to deliver advanced medical interventions in the helicopter cabin. This can save time on scene and even better support KSS's patients in transit ensuring time critical arrival at the hospital most appropriate to their ongoing treatment and care.
Developing community-based initiatives to prevent and respond to medical emergencies – this includes a community-based prevention, education and training programme, a HEMS Academy for healthcare and emergency response professionals, and a community-based first responders programme.
Evolving its Patient and Family Aftercare Service – which supports patients and their families in their rehabilitation and recovery.
David Welch, CEO, KSS explains, "As one team, Team KSS, we will act decisively and collaboratively to achieve our ambitious plans for the future – reaching more patients, improving more outcomes and working together to save more lives."
"Collaboration and partnership are key to our success, especially with our colleagues in South East Coast Ambulance Service (SECAmb), the wider NHS and the communities we serve. To realise our vision, we need our communities to come together to enable sustainable change so that together we can save more lives. Our future success is very much dependent on the dedication, expertise and passion within the wider KSS family who will all play a key role in the ongoing implementation and success of our strategy."
"It currently costs over £15.2M a year to operate our life-saving service, with 86% of our total income raised through the incredible generosity of our supporters which ensures we can give every patient the best possible chance of survival and recovery. To enable our success we will increase awareness of our life saving work and inspire even more support from our communities. Together we can achieve great things."
Dr Duncan Bootland, Medical Director, KSS said: "To realise our vision of an end to preventable loss of life from medical emergency, we need to collaborate with like-minded organisations to deliver community based initiatives that prevent and respond to medical emergency. When those emergencies do occur, we need to deliver the best possible medicine and provide ongoing support and aftercare, giving our patients and their families the best chance of a better future."
Barney Burgess, Chair of KSS's Board of Trustees and former patient added: "Our Five Year Strategy has been created in collaboration with staff, volunteers, Trustees, supporters and key stakeholders. We have focused on those areas where we can make the biggest difference to the care we provide and to our patient outcomes. Through examining the effectiveness of our service, thinking differently about how current problems could be solved, and ultimately looking at how we could further develop to deliver better patient outcomes, we have outlined our goals with related key projects that will drive our service forward."
KSS provides world-leading pre-hospital emergency care whenever and wherever required, across South East England, to save lives and ensure the best possible patient outcomes. Click here for more information