Latest News
Tunsgate Arch is open!
9th October 2019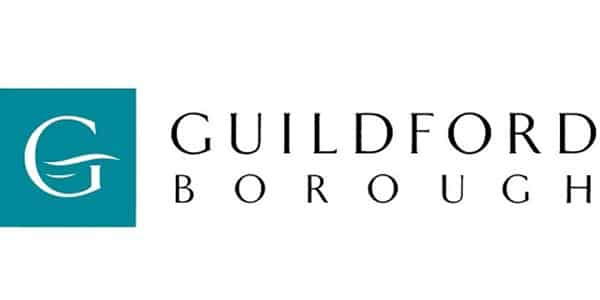 The town's historic Tunsgate Arch is open again after a period of closure for restoration. Guildford Mayor, Cllr Richard Billington, Leader of the Council Cllr Caroline Reeves, Managing Director of the Council, James Whiteman, CEO of Experience Guildford Amanda Masters and councillors, officers, town rangers and local businesses gathered in front of the Grade II arch to mark the occasion.
The Portland stone was quarried and replaced by PAYE, specialist stonemason's by Royal appointment. Earlier this year, a piece of stonework from the structure was dislodged leaving it partially closed to pedestrians while repair works were put in place in order to examine the building and investigate the cause.
Cllr Caroline Reeves, Leader of Guildford Borough Council says: 'We are delighted that Tunsgate Arch is fully open to the public again. Tunsgate Quarter was revamped and the area was pedestrianised and improved in 2018. The Arch is one of the great architectural heritage sites of the borough, dating back to 1818 and represents a key part of Guildford's character and identity.'
The 200-year-old iconic Arch has gone through various changes over the years. It was transformed in 1933, where two of the central pillars were moved to allow traffic to pass through.
Cllr Reeves continues: 'We want to say a big thank you to retailers, residents and visitors for being patient while we restored the arch. Public safety is paramount and the structural maintenance works were necessary. Restoring and replacing historic stone takes time.'
Amanda Masters, CEO of Guildford's Business Improvement District, Experience Guildford said: 'Our retailers welcome the restoration's completion. The Arch looks great and serves as an impressive frontage to the area's mix of high street and independent retail. Guildford is one of the top destinations in the South East for shopping and impressive heritage such as the arch is what makes our town unique and helps to draw visitors to the area.'