Latest News
Surrey Wildlife Trust and Surrey Choices – A New Partnership For Nature
21st July 2023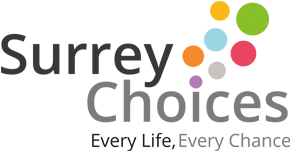 Surrey Choices, a local organisation dedicated to improving the independence, confidence and life skills of disabled and autistic people, has chosen Surrey Wildlife Trust to be its charity of the year (April 2023-March 2024). This will help raise money for the Trust's urgent mission to reverse the decline in the county's biodiversity and give more than 1500 people a great opportunity to get out and about in nature and learn about local wildlife.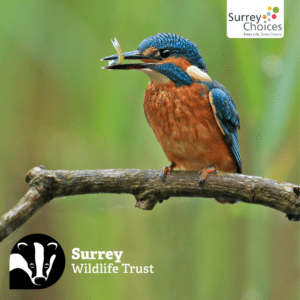 Surrey Choices is a Local Authority Trading Company, who are wholly owned by Surrey County Council to support disabled and autistic people. Surrey Choices provides person-centred support which enables people to live active lives in their local communities in ways that they choose. Surrey Choices focuses on friends, relationships, and community, health and wellbeing, employment, volunteering, and vocational learning and independent living and life skills. The aim of these is to give people the opportunity to develop the skills they need to live as independently as possible, while also providing opportunities for socialisation and personal growth. One of the projects run by Surrey Choices is a gardening and horticultural service that gives people with diverse needs the opportunity to help improve Surrey's countryside and public spaces.
The partnership with Surrey Wildlife Trust will give its staff and people they support a variety of new opportunities to enjoy nature and learn about how to protect and support the natural world, including through newsletters, talks, volunteering opportunities across the Trusts' network of more than 60 reserves as well as via email advice and podcasts. The Surrey Choices team will also carry out fundraising activities for the Trust over the next year, including running a raffle, sponsored skills auction and a sweepstake – during the Rugby World Cup later this year, Surrey Choices colleagues will be invited to donate into our Surrey Wildlife Trust Just Giving Page, and in return, they will be randomly selected a team for the tournament. The winner will receive a prize while all proceeds raised will go to the Surrey Wildlife Trust.
In addition, Surrey Wildlife Trust will provide advice and support to help Surrey Choices make its own sites more welcoming for a diverse range of native plants and animals from bees to frogs to hedgehogs.
SWT Director of Engagement Aimee Clarke says:
"Everyone has something important to contribute to the restoration of our wildlife and wild places.  Surrey Wildlife Trust has a clear aim to restore 30% of Surrey's land to nature by 2030, and to inspire at least one in every four people in our communities to take action for local wildlife.  We're honoured that the wonderful people at Surrey Choices will be joining us on our mission."
Surrey Choices Managing Director Martin Farrow says:
"It's well known that spending time in nature – and even better, helping protect and support local biodiversity – is great for everyone's wellbeing.  Staff members who have volunteered with SWT in the past have found the experience invaluable, so it makes perfect sense for us to broaden and deepen our partnership for the benefit for all our staff and the people that we support.".