Latest News
Local Celebrities, Eddie Izzard and Sally Gunnell OBE, Support YMCA DownsLink Challenge to End Youth Homelessness
25th May 2021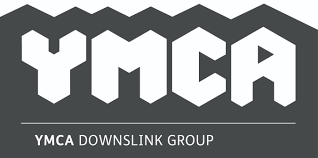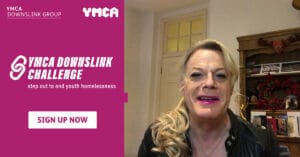 (Photo Caption: Comedian, Eddie Izzard and Olympic Gold Medallist, Sally Gunnell OBE, encourage people to join the YMCA DownsLink Challenge on Saturday 17th July 2021. Money raised from this new fundraising challenge will go towards services to end youth homelessness.)
"I would encourage you to get involved in the YMCA DownsLink Challenge to help homeless young people and put them back on the path to independence."  Eddie Izzard
Local comedian, campaigner, and marathon runner extraordinaire, Eddie Izzard, has leant her support to YMCA DownsLink Group's latest fundraising event, YMCA DOWNSLINK CHALLENGE. Eddie has been joined by Olympic gold medallist, Sally Gunnell OBE, to encourage people to sign up for the 16 or 36 mile walk, or run (if you're feeling super fit) along the scenic Downs Link Pathway on Saturday 17th July 2021.  Money raised by the event will go towards funding the charity's work to both tackle and prevent youth homelessness right across Sussex and Surrey.
The Downs Link Pathway, which is a disused railway line, links Surrey to Sussex (Guildford to Shoreham by Sea) and is how YMCA DownsLink Group got its name.  YMCA DownsLink Group is the largest youth charity in Sussex and Surrey, and every night provides a safe home to more than 750 local young people who are homeless or at risk of homelessness. In addition, it reaches a further 10,000 vulnerable young people and their families every year, through a range of services including youth advice centres, community and school counselling services, family mediation and other youth projects. Since the start of the pandemic, the charity has seen a huge increase in the number of vulnerable young people reaching out for its support, so fundraising has never been more important.
Chas Walker, CEO YMCA DownsLink Group, explains how the fundraised income will support the charity's work:
"This past year has been tough for everyone, but for many young people, already on the margins of society, it has been devastating. Young people, particularly those in low paid or gig economy jobs, have felt the economic impact of the pandemic already and many are struggling to afford the basics, such as food & rent. We've also seen a huge rise in the number of young people presenting as homeless due to an increase in family conflict. Despite increasing the capacity of our family mediation service, we have long waiting lists. And, most worryingly, we've seen a huge increase in the severity of the mental health issues presenting in our young residents and those coming to our Youth Advice Centres (YAC). Money raised by events such as YMCA DownsLink Challenge, will go towards sustaining and increasing our provision for those local young people most in need."
After such a long lockdown winter, organisers are hoping that people will be keen to use this event as an opportunity to get out with friends or family into the beautiful countryside, in a safe and Covid secure way. The event has been organised to ensure it complies with all Covid safety measures and anyone wanting to walk as a group are being asked to keep the number to six. Participants can choose whether to walk or run the 16 miles from Horsham to Shoreham, or for anyone feeling super fit, or wanting a bigger challenge, there is an option to do the full 36 miles from Guildford to Shoreham. Everyone is being asked to raise a minimum of £50 but anyone raising over £150 will be entered into a prize draw to win a hamper of 'goodies'.
For anyone unable to join on the day or wanting to take on a challenge a bit closer to home, there is also the option to do a challenge in your own area and in your own time. Alternative routes, throughout Sussex (East Sussex / West Sussex / Brighton & Hove and Guildford) are provided on YMCA DownsLink's website.
Registration is just £10 which covers the cost of putting on the event and includes a branded T shirt and finisher's medal.
To sign up or for more information, visit:  www.ymcadlg.org/ymca-downslink-challenge