Latest News
Surrey Based Digital Agency Receives 10th Award Nomination
20th April 2021

Thunderbolt Digital are thrilled to share that they have received their 10th Award nomination. They are very pleased to be in the running to win the Best Small SEO agency in the European Search Awards 2021.
Much celebrated for its human-focused but digital-based approach, Thunderbolt Digital is an agency like no other. With nine wins already under their belt a win in this category would make the agency an industry leader.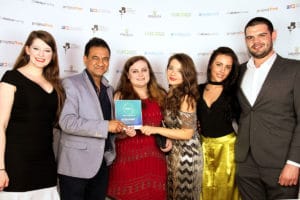 Previous wins include SME News Best Full Service Digital Agency 2020, and seven more with the Digital Surrey Awards in 2018 and 2017. The agency was also shortlisted for the UK Biddable Media Awards in 2019.
The Farnham-based full-service digital agency delivers SEO, PPC, social media, website design and development in-house, providing a one-stop-shop marketing solution for businesses.
The carefully constructed staff wellbeing and development strategy is certainly paying off. Thunderbolt Digital is proud to boast a team of 11 permanent staff and a network of contractors with team stretching as far as Manchester thanks to the latest expansions into the digital world. The team takes part in weekly activities to encourage camaraderie, this includes a weekly quiz, yoga sessions and regular online training opportunities.
Saybhan Delilkhan, Founder and Director of Thunderbolt Digital says, "The European Search Award nomination for Best Small SEO Agency is a testament to all the hard work of my colleagues. 
"Despite the challenges businesses have gone through in the past year, Thunderbolt Digital is committed to investing in our staff's skills and wellbeing with training opportunities and regular online social activities. This translates into high quality work output for our valued clients across the UK."
Poppy Rippon, Operations Manager of Thunderbolt Digital says, "I joined after graduating in 2016. With the support of the agency to grow my role, I qualified in agile project management and ran the agency's operations. I left to go travelling but returned to Thunderbolt as I love working here. The agency ethos and the passion our team has to deliver the best work for our clients is like no other."
Small to medium businesses as well as corporate clients across the UK are using Thunderbolt Digital's full-service website design and marketing services to grow their businesses, providing some clients with over 600% return on investment.