Latest News
Hartsfield Manor awarded Best Hotel in Surrey Award!
1st July 2022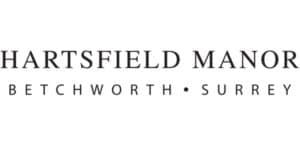 Hartsfield Manor last week were delighted to have been awarded the Best Hotel in Surrey Award in the recent Muddy Stilettoes 2022 awards.
Now in their ninth year, the Muddy Stilettos Awards champion the very best lifestyle businesses across 28 counties, chosen by their discerning readers.
Giles Thomas, Operations Director for the Manor Collection hotel group said "These awards are not voted for by editors, mystery shoppers or selected influencers. Instead, they are chosen by Muddy Stilettos readers and hotel guests. This year 75,000 businesses were nominated across the country and 765,000 votes cast across the 28 Muddy counties. Making this year the biggest and best Muddy Awards to date. And we won one! Simply amazing."
He went on to say "The hardwork each and every one of our team put in to ensuring our guests have the best experience possible has always been clear to us. But for our guests, people like yourselves, to take the time to vote for us, is simply amazing and we thank you so much for your support."
For further information on upcoming events please see www.hartsfieldmanor.co.uk or call the events teams on 01737 845300.