Enterprise M3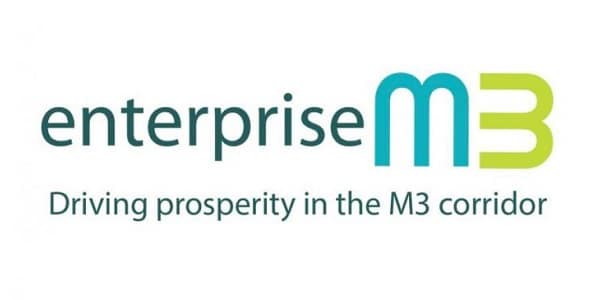 The Enterprise M3 Local Enterprise Partnership (LEP) is a public/private partnership set up to support and sustain economic growth at a local level.
The LEP operates with a network of existing business support, provided by the private sector, the public sector and a range of membership and third sector bodies. The LEP works in partnership with these bodies, avoiding duplication of services. It also works within a network of existing public sector funding and decision making, on economic development, planning and infrastructure delivery for example. It also co-operates closely with the network of adjacent Local Enterprise Partnerships on issues of shared interest. Enterprise M3 works as a catalyst within these networks to achieve its vision in four complementary ways:
Coordinating – Bringing partners together to create improved outcomes – through the implementation group and our network of Action Groups
Informing – Communicating what is available from partners through the website and social media, events and networks
Advocacy – Commissioning evidence and lobbying for action from partners or government
Delivering – Carrying out activities where this is the best solution.
See more at: www.enterprisem3growthhub.co.uk/
Enterprise M3 Annual Report 2019/20 Resilience, Recovery and Renewal
We are delighted to share our Annual Report 2019/20: Resilience, Recovery and Renewal. This is our first digital annual report which allows you to take a customised journey through the pages that interest you, listening to short videos from our Chair, Dave Axam and Chief Executive, Kathy Slack as well as watching snippets about key projects such as the Guildford Games festival.
We are proud that Enterprise M3 has been praised by Government for our strong track record on delivery, and accountability through outstanding governance. Our Annual Report, launched at our AGM, identifies many of the LEP's strengths and points the way forward for how we, and our partners, can help lead a strong economic recovery and renewal for the area.
Key moments in the LEP's catalogue of achievements last year, include:
Investment of £37m in jobs, homes, learning and business last year.
We worked with 83 schools and colleges to inspire and prepare young people for the world of work.
Support for the region's low carbon sector, which made sales of over £18billion. With 10% of the entire UK low carbon and environmental goods and services sector now in the EM3 region, we are primed to help lead on the UK's Green Recovery.
The creation and safeguarding of over 450 jobs and support for 237 enterprises by the EM3 Growth Hub. Our experienced team of advisors have a 99% satisfaction rating from the business leaders they work with.
Please do take a look at how we are shaping our economic recovery and renewal plan here, and if you would like to receive our regular business-focused newsletter please register here.