Latest News
Weathering the Covid-19 pandemic storm in a mindful way
20th November 2020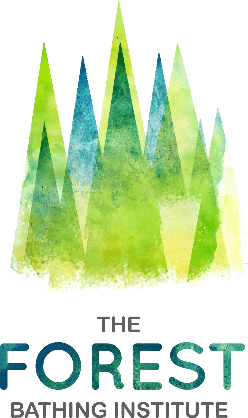 The Covid-19 pandemic has certainly stretched everyone's capacity in some way or another. It has been challenging on all fronts, but especially the isolation that has been enforced, to help reduce contagion across regions. This has seen a considerable impact on our mental health and physical well-being.
It is in our nature to be sociable and to want to see friends and loved ones. So, what could we be doing to ensure that we maintain inner harmony and have the coping strategies to ride the Covid-19 pandemic storm and cope with the 2nd lockdown across England?
Much scientific research has been done, especially in Japan into the healing powers of spending time in nature and under the canopy of trees, and in focussing on the senses in a structured manner. Indeed, those of us at The Forest Bathing Institute have seen first-hand how adopting a mindful state helps to stay present and connected, especially when spending time in woodland and in nature. This in turn helps to quieten the mind and switch the body's nervous system to that of the parasympathetic, which is the more recuperative healing system.
During the last 6 months we have been adding to our 'mindfulness toolkit' of hints and tips, to help our Forest Bathing community cope with the uncertainty of the situation.
Being able to go with the flow on a day to day basis, accepting our mood, the weather and any other situations that creep in, is also a good starting point. In fact, by adopting a mindset that 'just accepts' if it is raining outside, is helpful in lots of ways, because it helps us to become more adaptable and flexible in our attitude.
So, perhaps next time you are going out, and the weather doesn't look too enticing, just put on those wellies, grab that umbrella, and weatherproof coat, and venture outside. Embrace the rainy day and enjoy a different aspect of what Mother Nature has to offer.
Think child! And adopt a playful nature! Go and splash in the puddles, isn't it fun, to just be in the moment, like children and animals are so good at doing! Listen to the rain bouncing off your umbrella and clothing. Inhale the richness of the grass and wet earth around you, and savour the rainy day, with its life-giving torrent of water, pouring from the storm clouds above.
Appreciating the moment is so helpful in calming the mind and staying in the present. All of which helps with aiding relaxation and reducing stress levels. Afterall, we have no control over the daily weather, which in our temperate climate can see all four seasons in one day. A bit like the Covid-19 pandemic, we have no control over this either, however, we can control how we feel, our emotions and our attitude.
If you'd like to add to your 'mindfulness toolkit' then do follow us on Twitter, Instagram and Facebook for regular hints and tips.
In accordance with Government guidelines, please note that due to the current Covid-19 lockdown across England, no Forest Bathing+ nature therapy sessions are running.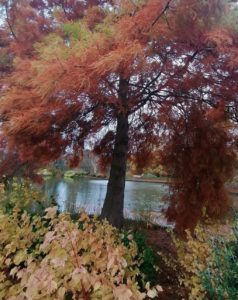 Photograph courtesy of Philippa Bassett, The Forest Bathing Institute