Latest News
Enterprise M3 LEP Receives Grant to Fuel Space Cluster Growth
19th November 2020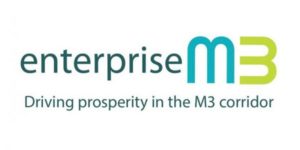 Space and Satellite companies in the Enterprise M3 LEP area will receive a significant boost from the UK Government's Space Agency today with a £70,000 grant to help grow the cluster.
The EM3 network of space and satellite businesses is currently valued at £9 billion and has more than 180 companies engaged in high-tech innovative work, employing more than 3000 local people.
Over the next six months the LEP, local government, industry experts and business leaders will come together to look at how the area can take advantage of the opportunities of the commercial space age, identify current strengths and set a strategy for growing the region's sector further.
Science Minister, Amanda Solloway MP said:
"The UK's space sector has shown incredible resilience to the coronavirus pandemic and will continue to play a key role in our recovery – from creating high quality jobs to finding unique ways to support our NHS.
"This funding will arm local leaders up and down the UK with the tools they need to put their local areas at the front of the commercial space race, while refuelling the tank of the UK economy and helping Britain realise it's ambitions as a global space superpower."
Rob Dunford, EM3's Director of Business Delivery said:
"This support for EM3's Space Cluster from the UK Space Agency is a great opportunity to highlight a real hidden gem of our region with a global reach.
The EM3 space ecosystem is the focal point for a very strong sector in the wider area and underpins other major priority sectors, like 5G, Immersive Technology, Clean Growth and Life Science and will play an ever-increasing role in bringing new jobs and re-skilling opportunities for people in our area."
As demonstration of that existing strength, the official opening of a major international space technology company in Basingstoke takes place this week.
On Thursday 19th November 2020, leading nanosatellite manufacturer, NanoAvionics, marks its new location at the EM3 funded Basing View Enterprise Zone. This is the firm's first UK base, having already developed a hub in Lithuania and two in the USA.
Robin Sampson, business development manager for NanoAvionics UK and Western Europe, heads the company's operations in the UK:
"One of the reasons that we've doubled-down on our investment in the UK, is that we see the potential to conduct world-class industrial research and development here.
5G telecoms and IoT technologies are set to play a big part in all of our futures and NanoAvionics is well equipped to support and benefit from the UK's positioning in this key enabling technology and we look forward to connecting with the 5G Innovation Centre at the University of Surrey.
Basingstoke is a great location for us because it offers a good and quick connection to other important locations in the UK. And Belvedere House, in the town centre of Basingstoke, offered NanoAvionics a suitable space to install a cleanroom and all the necessary equipment for our nanosatellite production, with an opportunity to scale. I'd particularly like to thank Enterprise M3 for their help in enabling our move."