Latest News
Fountain Centre Guildford staff experience Forest Bathing+ nature therapy
9th July 2021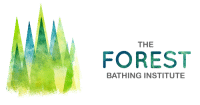 The Forest Bathing Institute (TFBI) were delighted to host members of the team from The Fountain Centre in Guildford to a Forest Bathing+ nature therapy session in the beautiful ancient forest at Newlands Corner.
Founded in 1998, the Fountain Centre is a local independent charity based in St Luke's Cancer Centre, in the Royal Surrey County Hospital. The centre provides holistic and emotional support services to cancer patients and their loved ones who are receiving treatment at St Luke's.  The charity is able to function thanks to their many volunteers (over 100) who welcome patients to the centre, and provide a range of complementary therapies and emotional support.
This Forest Bathing+ session was hosted by Gary Evans, Co-Founder Director of TFBI. Forest Bathing also known as 'Shinrin-yoku' is a mindful walk-in woodland, under the canopy of the trees. In Japan and South Korea, it is a well-known public health intervention and is used to treat high blood pressure, anxiety, and stress.
Forest Bathing+ is a more comprehensive therapeutic form of forest bathing developed in cooperation with numerous universities, professors, doctors', and scientists. At its core is the incorporation of mindfulness, so Forest Bathing+ encourages full engagement with all five senses to enhance the experience and to bring about a mindful state, where the body can switch to the parasympathetic nervous system, which is more restorative, healing, and therapeutic for the body.
The Fountain Centre team spent two hours mindfully walking, slowing down, inhaling the forest air, and engaging with each sense via a series of structured scenarios. During the course of the 2 hours, they were able to connect with the forest environment and notice and experience their surroundings from a different perspective.
During 2019, TFBI partnered with Dr Kirsten McEwan at the University of Derby to conduct the first ever UK scientific research study into the physiological benefits of Forest Bathing+. This ground-breaking study revealed incredibly positive results, one of which highlighted, that after 2 hours of Forest Bathing+ 88% of participants reported an average 29% reduction in anxiety, whilst 57% showed an increase in Heart Rate Variability which indicates good cardiovascular health and is a measure of balance in the nervous system.
TFBI is currently working on a pilot programme with GP practices across Surrey, responding to patient referrals for various physiological and mental health issues.
Gary Evans, Co-Founder Director TFBI said; 'We are in discussion with The Fountain Centre to devise tailored Forest Bathing+ sessions for their NHS patients so that they can benefit from spending mindful time in nature, and especially if possible, in a woodland or forest setting.'
Charlotte McDowell, Cancer Support Service Lead at The Fountain Centre commented; 'We found the Forest Bathing+ session to be highly beneficial and I can see how this could be of real value to our patients. We are working with Gary and the team to develop a programme that can be accessible to as many patients as possible and help assist with their healing.'
NB: All Forest Bathing+ sessions are run in accordance with Government Covid-19 guidelines.