Latest News
Mundays charity run brings fun amidst the Painshill follies
29th May 2019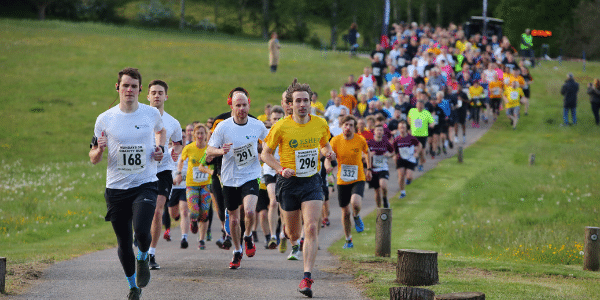 Wednesday 8th May saw the 12th annual Mundays Charity 5k run raising funds for Princess Alice Hospice. Taking place for the first time in the stunning new venue of Painshill in Cobham, over 200 runners, joggers and walkers from businesses around Surrey pounded the paths taking in views of the lakes, woodlands and follies.
Val Toon, Managing Partner of Mundays commented "we are thrilled that the run continues to be so popular and that the monies raised from this year's event mean that we have now raised in excess of £60,000 through running this annual event for the Hospice since our first 5k in 2008.  Our community involvement is really important to us and our team enjoy meeting all the participants and are always keen to get involved in the event as runners, marshalls and organisers."
Paul Griffiths, Director of Painshill, who also entered a team into the event said "We were absolutely delighted to host the annual Mundays 5k run here at Painshill and it was fabulous to be part of an outstanding effort from the team at Mundays to raise money for the Princess Alice hospice, a charity which does such amazing work.  Health and wellbeing has never been more vital so to have over 200 runners taking part was brilliant, and whilst we had some 'elite' runners setting an amazing pace we also had many people completing their first ever 5km which is super.  Here at Painshill we see ourselves as an vital enabler for people to come into the estate and take part in exercise whilst enjoying a walk or run in our living work of art"
Susie Sharp from Project5, who entered a team of 17 said of the event "The Mundays Charity 5K is a really well organised fun-run for a great cause. It's been a regular event in our diary for a few years now and each time we design and print a bespoke team T-shirt for the run.  It's a wonderful atmosphere, it's great for team bonding and a brilliant opportunity to meet and support other runners.  Well done to all involved – we're already looking forward to next year!"
Tim Iredale, Senior Partnerships Fundraiser at Princess Alice Hospice, who took part in the event as well as organising the involvement of the Hospice team commented: "Thank you so much to everyone at Mundays who put in so much effort to organise another fantastic 5k on behalf of Princess Alice Hospice.  This is the fourth year I've taken part and it seems to get better and better and the new venue at Painshill was just fantastic, along with the addition of a BBQ for after the race!  Mundays have raised over £60,000 from this event which is absolutely amazing, particularly since the Hospice relies on voluntary donations to cover 74% of the £9.9 million it costs us every year to offer our services free of charge to the people who so vitally need them."
If you would like to get involved in next year's event please e-mail marketing@mundays.co.uk to be added to the invitation list or if you would like to make a donation online please visit www.justgiving.com/fundraising/Mundays-5k-Charity-Run .