Latest News
Campaign to ramp up exports in Enterprise M3 region gathers pace, with 'Export Champion' at the helm
29th May 2019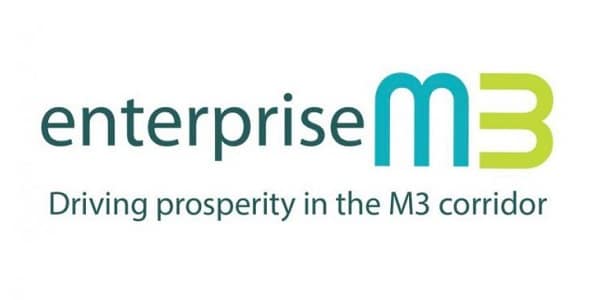 The bid to bolster Enterprise M3's exporting industry has begun in earnest, after the Government's selection of Chief Executive Kathy Slack as a South East England Export Champion.
Kathy was one of 20 champions designated for the South East by the Department for International Trade (DIT). Her specialist field will be business support, drawing on her seven years of experience heading up Enterprise M3 as well as her previous work at the South East England Development Agency.
The Enterprise M3 region is globally-competitive, known for its knowledge, digital and design-based economy. The DIT's South East England Export Champions also includes industry leaders from our area which covers West Surrey and most of Hampshire.
They are:
Alison Lyons, Sesame Access Ltd – Advanced Engineering
Brian Watt, Sir Hans Sloane Chocolates Ltd – Food & Drink
Tom Higgins, Gold-I Ltd – Software and B2B computer services
David Taylor, MR Solutions – Healthcare and medical equipment
Enterprise M3 has long been a supporter of helping businesses to export, in partnership with the DIT, and the new community will accelerate this work. To further strengthen the partnerships across the Enterprise M3 region, key business support partners are combining through a number of facilitated workshops aimed at making the export journey easier and more reachable for businesses.
This month saw the first of these workshops. We were pleased to be joined by our partners and also staff from the DIT who were interested in the outstanding work already underway in our export industry.
Janet Edwards, DIT Sector and Projects Manager – South East Region, said: "The workshop provided an ideal opportunity to brainstorm with our partner organisations in Surrey and Hampshire who are involved in the delivery of export support services, work out what we already do to support companies and how we can fill any gaps in export support services, refer customers between us and make the support we can offer more seamless.
"The Enterprise M3 LEP area has some of the most innovative companies in the UK so let's work together in harnessing that potential to help even more businesses in this patch grow internationally."
Enterprise M3 Chief Executive, Kathy Slack, highlighted how the workshops and the exporting base would be aligned with the LEP's Local Industrial Strategy.
She explained: "There is an extremely strong culture of international trade amongst businesses in our area. The success of our first Export Workshop reflects the wealth of expertise amongst our partners and our commitment to delivering results for our businesses across the Enterprise M3 region.  Maximising the region's performance on exports is a priority in our emerging Local Industrial Strategy, and these workshops will help maintain and extend the stellar performance of our businesses in international markets."
Small and medium sized businesses can benefit immensely from international trade, helping increase turnover, growth, innovation and create jobs.
Gary Hayes, International Trade Manager for Surrey Chambers of Commerce which works closely with the LEP, added: "For businesses in Surrey and Hampshire that are trading internationally, or looking to begin their journey, it can daunting and difficult to find the right support and information that will take their business to the next step. Through this collaboration, each bringing a wealth of expertise and support, our common objective is to provide a service that brings together each organisation's strengths and that makes sure the right support is available to businesses and brings useful and relevant information to the forefront that is more accessible to businesses."