Latest News
Charles Russell Speechlys' Corporate Team Shortlisted For Six South East Dealmakers Awards
23rd January 2020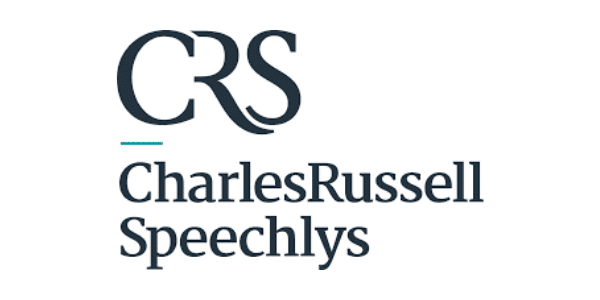 Charles Russell Speechlys in Guildford has been shortlisted for six Insider South East Dealmakers Awards 2020 including Corporate Law Firm of the Year, Corporate Lawyer of the Year, Deal of the Year (under £10m), Deal of the Year (over £10m) and two deals shortlisted for Private Equity/Venture Capital Deal of the Year.
The awards celebrate the region's corporate finance transactions across the legal, accountancy, banking and finance communities, with winners announced at a ceremony at the Copthorne Hotel, Effingham Park on 6 February 2020.
The two deals selected as finalists for Private Equity/Venture Capital Deal of the Year relate to BGF and BusinessOptix Limited. BusinessOptix Limited, a technology business based in Guildford, received a blend of both debt and equity investment from US-based Naples Technology Ventures. Charles Russell Speechlys acted as legal advisers to BusinessOptix Limited, with the deal also involving the partial exit of shareholders.
In terms of BGF, the UK and Ireland's most active investor in growing businesses, Charles Russell Speechlys advised the team on its investment in BB7 Fire Limited, a specialist firm of consulting engineers. This was a complex deal, involving a group re-organisation and the simultaneous acquisition of Omega Fire, a specialist fire consultancy, by BB7 Fire Limited.
Charles Russell Speechlys has also been shortlisted for Deal of the Year (over £10m) for advising on the acquisition of XI-Tech by discoverIE Group Plc, a leading international designer, manufacturer and supplier of customised electronics to industry.  This is in addition to the acquisition of Guildford-based games developer Edge Case Games (the developer of Fractured Space) by Wargaming (the developer and publisher of World of Tanks), on which the team advised, also being shortlisted for Deal of the Year (under £10m).
Duncan Elson, Partner and Head of Charles Russell Speechlys in Guildford, commented, "I am delighted that our Business Services team has been shortlisted for so many Insider Dealmaker awards. Our Corporate team, led by partner Geoffrey Sparks, continues to go from strength to strength, with an exceptionally talented team, bolstered by new partner promotions which means we are able to give the best possible service to our clients in the South East and beyond."
The Guildford team has advised on a number of notable deals over the last year including:
The sale of Next Control Systems Limited to Elektron Technology Plc (now CheckitPlc);
The acquisition of the pharmacy group, Avicenna Holdings Ltd, by Juno Health pharmacy group;
The sale of Gas Centre Holdings Limited to the managers of the company; and
The management buyout of Boston Multi Family Office, supported by private equity firm Rockpool Investments.
Newly promoted Partner, Rebecca Burford, has been shortlisted for Corporate Lawyer of the Year and was ranked as "Up and Coming" in Chambers & Partners 2019. Rebecca led on both the BusinessOptix Limited deal, and on the acquisition of Edge Case Games by Wargaming.
Charles Russell Speechlys' corporate team in Guildford is Tier 1 ranked by The Legal 500 for M&A transactions up to £50m based. It is led by Geoff Sparks who was also recently ranked as Band 2 corporate lawyer in Chambers & Partners in the South.
The team has expanded over the last year with new recruit, Associate Pei Li Kew who joined Partners Geoff Sparks, Tim Jenkins and Rebecca Burford, Senior Associate Jonathan Steele, Associates Samuel Milne, Nizmeara Khatun, Tertius Alberts and Assistants Matthew Carter and Harriet Page.
---
Charles Russell Speechlys employs over 160 staff in its Guildford office at One London Square and provides a full range of services to businesses and private clients in the region, backed by the resources of an international law firm. For further information, please visit www.charlesrussellspeechlys.com
---