Latest News
Celebrating 20 years of Female Entrepreneurial Success: The 2022 everywoman Awards Open for Nominations
21st June 2022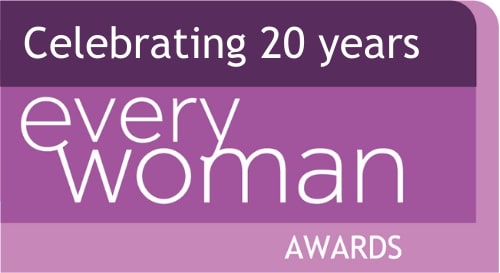 The 2022 everywoman Awards are now open for nominations until 11th July 2022.
Celebrating their 20th year, the awards identify and celebrate inspirational female founders whose
innovation, passion and purpose will inspire future generations of entrepreneurial women. Lauded
by government with a reception at 11 Downing Street when this ground-breaking programme
launched in 2003, business owners recognised by the everywoman Awards have been invited to
front UK trade and industry campaigns, to participate in international trade missions as well as to
meet The Queen. Endorsed by five Prime Ministers, the everywoman Awards has played a leading
role in changing the face, and voice, of entrepreneurial Britain to better reflect the UK's diverse
business landscape. With over 400 women celebrated as pioneers, role models and phenomenal
leaders, the Awards have helped the unknown become household brands, and the well-known
become some of the UK's finest business Ambassadors.
Over the past 20 years entrepreneurs have continued to achieve over adversity, battling recessions
and the pandemic that brought the world to a standstill, and female entrepreneurs have risen to
the occasion against all odds. In 2002 men were more than twice as likely to be in the early stages
of starting a business than a woman, but last year 140,000 companies were established by allwomen teams, the first time that number has outstripped male-led companies. The number of
women launching new businesses is growing by a third each year, with young female entrepreneurs
increasing particularly rapidly.
Although female entrepreneurship has come a long way over the past 20 years, with more
opportunities, networks, and stronger female representation, studies show that there is still much
more to do and challenges around confidence and funding continue to be a key obstacle for women
starting their own businesses.
Women, on average, have 20% lower confidence than men in their capabilities to start a business
and those who do pursue businesses will find that finance remains in short supply.
Research suggests that women in the UK launch with, on average, 53% less capital than their male
counterparts and male entrepreneurs are 86% more likely to be funded by venture capital. However, consistent with findings from past years, women are overall about 10% less likely to report a business closure than men. These financial and confidence gaps mean that female entrepreneurs
are an untapped pool of talent and potential that if addressed, could result in women starting and
scaling new businesses at the same rate as men in the UK, which in turn could contribute £250
billion to the British economy.6At a time when growth and innovation are of such importance to
the UK's future, it is economically short sighted to not unlock this potential. This is why the everywoman Awards continue to play such an important part in British enterprise, with 76% of former Award winners agreeing that their everywoman Award has positively impacted their business and 63% said it improved their personal and professional confidence. The Awards are a platform and spotlight for incredible women in business to build their confidence and inspire the next generation of female entrepreneurs, whilst facilitating powerful introductions to business mentors, commercial relationships, and investors.
Karen Gill MBE, Co-Founder of everywoman, comments: "We are thrilled to be celebrating 20
years of the everywoman Awards and look back on the hundreds of women who have benefitted
from the network and platform that the Awards provide. With female entrepreneurship at a record
high, it is crucial that they have a network to support them – personally, professionally, and
financially, to ensure their success. In partnership with our esteemed judging panel, we aim to
identify those women who are breaking business boundaries and whose journeys to success will
inspire, motivate, and pave the way for more female business owners."
The 2022 award categories are as follows:
• Aphrodite Award – awarded to a woman who founded her business whilst raising a
child/children aged 12 or under
• Artemis Award – awarded to the most inspirational woman running a business trading for 18
months to 3 years
• Athena Award – awarded to the most inspirational business trading from 6 to 9 years
• Brand of the Future – sponsored by The White Company – awarded to the female founder of
a business that demonstrates great potential for growth, the winner of this Award will receive
a mentoring session with Chrissie Rucker OBE, Founder of The White Company
• Demeter Award – sponsored by Nutriment – awarded to the most inspirational women running
a business trading from 3 to 5 years
• Gaia Award – awarded to the most inspirational and successful female founder of a social
enterprise who has combined strong community benefit with a sustainable business model
Hera Award – awarded to the most inspirational woman running a business trading for 10 years
or more
The everywoman Awards are free to enter and are judged by a panel of entrepreneurs whose own
journeys mirror those of the entrants. Judges include: Rosaleen Blair CBE (Alexander Mann
Solutions); Chrissie Rucker OBE (The White Company), Kanya King CBE (MOBO Organisation), and
Melissa Odabash. The awards are under the patronage of the UK's most successful female
entrepreneur, Dame Mary Perkins, co-founder of Specsavers.
Entries close on 11th July 2022 and winners will be announced at the awards ceremony in London
on 8th December 2022.
For further information visit www.everywoman.com/ewawards