DHP's – St Richard Reynolds Catholic College
22nd January 2019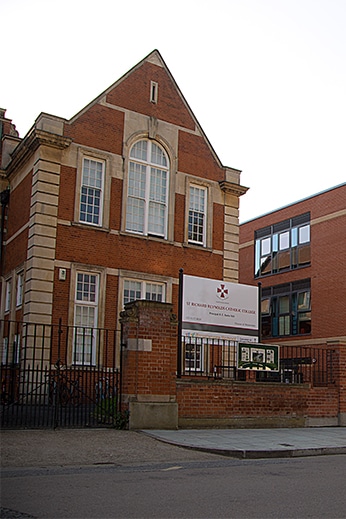 It is the end of an era for DHP and the start of a new beginning for St. Richard Reynolds Catholic College, as the final snagging has been completed on our five yearlong project with the Diocese of Westminster and the London Borough of Richmond upon Thames. The new all through school in Twickenham accommodates pupils between the ages of 4 to 18, and provides approximately 150 primary school places (1FE), 750 secondary school places (5FE), a 300 place sixth form and accommodation for 48 Strathmore School pupils.
The existing site in Clifden Road comprised a variety of buildings ranging from 1907 to the early 1970s including an Edwardian building with important historic and social importance. The refurbishment and new build design pays homage to the existing architecture whilst tactfully blending the new with the old. Our design unifies the fragmented site with a sense of cohesion and improved flow of internal and external space. The main principles of the design include a courtyard space and clear zoning to identify different school stages, whilst incorporating shared spaces to enforce the all-through environment.
The new Elizabeth Building is clad with structural glazing with glass fins which use three pieces of laminated glass. This bespoke entrance design is the first of its kind in UK architecture, and creates a fantastic kerbside presence.
DHP were responsible for the full design and project management, including cost consultancy for RIBA stages 0-7.