Is a dedicated server the best choice for you and your business?
4th March 2019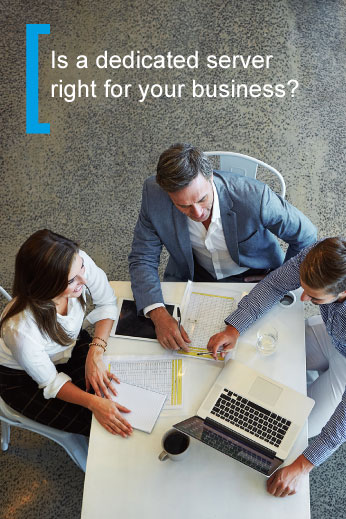 A dedicated server provides you and your business with the ultimate in power and control, but they can come with a hefty price tag so it's important to make sure it is the right decision for you. Here are some of our top reasons as to why you should choose a dedicated server as your hosting option.
Hosting with high performance
Realistically it isn't the size of your business that will demand whether you require a dedicated server but instead what you are planning to use it for. If you need as much power as you can get we can supply you an enterprise-grade Dell PowerEdge server with anything up to 768GB of RAM, 24 Xeon cores and all backed with 144TB of speedy SSD storage – we've got you covered.
A flexible solution
A dedicated server means you can customise it to your unique needs with CPU, RAM, disk space and software. Memset Cloud VPSs only come in balanced amounts of RAM, CPU and disk space. However, some applications require far more of one resource than the others. Why pay for resources which you don't need? When you order a dedicated server, we will be happy to load the server with exactly the resources you need to keep the cost as low as possible and still meet your requirements.
An additional benefit is that you can engineer a solution to reduce your licensing costs. For example, Microsoft SQL requires a lot of RAM but lower CPU; by configuring the server correctly you can achieve a cost-effective solution without sacrificing performance.
Whilst more flexibility can give you more control, it is inevitable that your server will have to undergo maintenance. On a shared platform your maintenance window will likely be dictated to you and this may be an inconvenient time for you and your business. At Memset when you have a dedicated server we can work with you to ensure that the maintenance happens at the optimum time for you.
Hosting for storage
These days there are lots of options for storage and at Memset we are happy to offer all of them. If you want massive amounts of storage and speed isn't a top priority, you can fill a server with larger and cheaper traditional hard disks that will give you the space you need at a very reasonable price.
The next step up in terms of speed and price are SSDs. At Memset you can put up to twelve 12TB SSD drives into a single chassis for outstanding speed and capacity. We only use industry-respected brand SSDs such as Intel, Kingston, Western Digital or Crucial so you can rely on their reliability and performance.
If the price isn't a factor and you've got to have the best of the best we can supply up to six Intel Optane NVME drives per chassis. This will give you an outstanding 25000MB per second read speed how does 5.5 million IOPS per drive sound?
Security is key
Memset dedicated servers are fully compliant with the full suite of Memset security tools which will help keep your server safe and your data locked down. The Memset security suite includes an external firewall, intrusion detection, vulnerability management and penetration testing. With these tools, Memset will enable you to configure and maintain rock-solid security.
When is a dedicated server right for my website?
If you expect a consistently high level of traffic on a daily basis a dedicated server will offer the performance you require handling even the highest spikes in demand. We all know by now that visitors will only wait a second or two for a page to load, so don't be deflated by lagging page load times. A dedicated server may help you to avoid losing business with an abundance of resources.
You're predicting major growth
If you have a website which will require major resources in the not-so-distant future a dedicated server will mean you can scale up without having to migrate. However, if your website resource requirements change on a regular basis you might want to take a look at a more flexible cloud solution such as Memset's Cloud IaaS.
Why don't I just buy my own hardware
Whilst you think that buying your own hardware may be more cost-effective, have you considered the cost of managing and maintaining it? This can be a heavy resource on any IT department; with dedicated hosting you have a team of hosting experts building and maintaining your server equipment. This will result in reduced overheads and increased uptime, in the long run, resulting in a higher return on your investment.
Dedicated servers aren't the right choice for every business or project, so it's important to clearly think through the workload of your requirements. If you require high performance, vast storage, greater control or more flexibility, then a dedicated server may be the right solution for you. Our team of experts will work with you to determine whether dedicated or shared hosting is right for you.
Enquire now and get one month free
Order before 31st March 2019 and get one month free on any dedicated server hardware.