Latest News
Vision Engineering Develop Yoga Programme For 125 Staff Working at it's Global HQ & R&D Site In Guildford
5th May 2021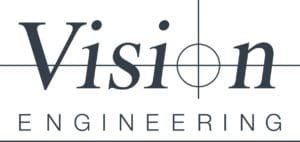 Surrey Chambers member, Vision Engineering, a privately owned 62 year old manufacturer of optical and digital instrumentation, has 125 staff working at its global HQ & R&D site in Send, Nr Guildford
Staff have a wide variety of technical skills and have been working throughout the pandemic, supplying equipment to the medical device and infrastructure (amongst others) sectors globally
Vision has developed a well resourced and managed staff development programme, which alongside training and development, includes an in house gym and table tennis, a woodland walk path in the grounds, and celebrations with snacks and music of the different nationalities and cultures that work in the Company.
The Company has also developed a yoga programme, which has been run for the past 3 years by Lisa Parkin, a 200hr qualified yoga instructor, who is currently training to be a yoga therapist.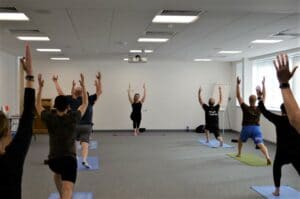 The yoga programme, which is free to staff, takes place towards the end of the working day, averaging about 10-14 participants
Lisa runs an hour's session, with a combination of Vinyasa/Hatha physical yoga, Yoga Nidra (a meditative technique), and the use of ringing bowls to provide mental focus.
Lisa's classes are mixed ability and able to integrate beginners very easily.
For staff who work part time, the session is broadcast on Zoom, allowing other participants and their families to join in from home (The Zoom streaming, with Lisa teaching from home, was also used during the latest lockdown for staff who were working).
Lisa comments " My Vision Engineering classes contain a mixture of all abilities and genders, who can present with a range of conditions, including aches and pains from sports and work, as well as stress from their day to day lives. The classes start at 4.30pm, and most come bustling  in straight in from the factory or offices. My main focus is to help them to relax and de-stress, settling them into the class before utilising easily-adaptable yoga poses accessible for all that can help to build strength, flexibility, and body awareness. I vary the classes to maintain interest, and following our savasana (relaxation) at the end of the session, I often have to wake them up!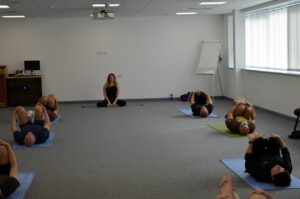 Stewart Mardell, a 50 something senior manager in the Company and sometime footballer comments " We have developed a hard core of colleagues who would not be without their weekly yoga fix. I am often at my desk for hours and find that Lisa's sessions relax me mentally, but also help develop my physical flexibility"
The Company sees a clear, if subjective, correlation between the yoga sessions, physical and mental robustness and a reduction in  sickness.
Lisa Parkin can offer a range of corporate yoga services, which are related to the composition of the people attending, what the Company hopes to achieve, and the location (face to face, virtually, or a combination of the two). Lisa can be contacted by email: lisaparkin80@gmail.com or Tel 07375445903