Latest News
Run 31 Or Squat 3100 In March For Life-Saving Charity Air Ambulance Kent Surrey & Sussex
12th February 2021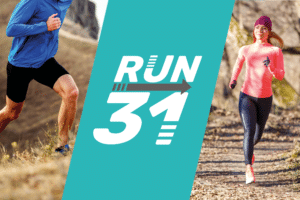 Over £157,000 raised through fitness fundraising in January
Air Ambulance Kent Surrey Sussex (KSS) is inviting members of the public, of all ages, to join its fitness fundraising activities, Run 31 and Squat 3100 for the 31 days of March to help raise vital funds for the life-saving charity.
Run 31 involves participants running a total of 31 miles in March and Squat 3100 is for those who wish to complete 3100 squats by the end of the month. Participants can undertake either challenge in a way that works best for them, whether that means a small amount each day or endurance sessions once or twice a week. They even have the option to undertake both!
KSS's March fitness fundraising initiatives build on the success of its inaugural Run 31 challenge which took place in January and resulted in 1,300 participants from across Kent, Surrey, Sussex and beyond raising over £157,000 by running 31 miles over the 31 days throughout the month.
These fundraising campaigns are essential in order to ensure that KSS can remain fully operational 24/7 and can continue to provide world-class pre-hospital emergency care for the sickest and most critically injured patients across the regions which it serves.
Help KSS to save lives
It costs £15 million each year to deliver the charity's emergency service in which specialist doctors and paramedics provide critical treatment to patients at the scene of an incident. 88% of this is raised through public donations.
Over the last 12 months, despite unprecedented operational challenges and a decline in fundraising income due to cancelled events, KSS's 24/7 life-saving service has remained uninterrupted. In addition, the life-saving charity has worked in partnership with the NHS and South East Coast Ambulance Service NHS Foundation Trust to transfer the most seriously ill COVID-19 patients between Intensive Care Units across the region. KSS relies on the generosity of its fundraisers in order to be able to deliver its vital service to save lives.
Helene Poursain, Director of Fundraising and Events at KSS, said:"We are so grateful to the amazing 1,300 people who supported our Run 31 in January and raised essential funds for our charity, enabling us to continue to be there 24/7 for the most critically ill and injured people in our region. In fact, we have spoken to all participants to thank them individually and let them know how much we appreciate their support.
"Building on the success of our January fitness fundraising campaign, we are excited to be organising Run 31 in March and we have added a new twist, Squat 3100, to encourage people to get involved if running doesn't appeal to them. We hope to match the success of January's Run 31 and urge people across Kent, Surrey and Sussex to take part and help to continue to save more lives."
Those taking part in Run 31 or Squat 3100 will be invited to join the Run 31 Facebook community group and will receive a free t-shirt along with tips on how to promote challenges through social media. For further information and to register (FREE), please visit: www.aakss.org.uk
To help members of the public see how their donations support KSS:
£8 could buy 100 syringes which are needed to administer life-saving drugs to patients
£30 could pay for a Gigli Saw, used when performing a thoracotomy (surgically opening a patient's chest)
£50 could buy a frontline chest drain kit, used to place a chest drain to drain blood or air from a patient's injured chest, allowing the lung to work properly
For further information: www.aakss.org.uk