Latest News
Guildford Shakespeare Company complete their first full annual programme since the pandemic
25th August 2022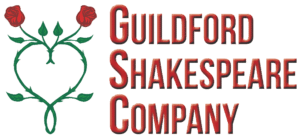 15 October – 05 November
"I knew myself, at the first breath of this new life, to be more wicked, tenfold more wicked… and the thought, in that moment, braced and delighted me like wine."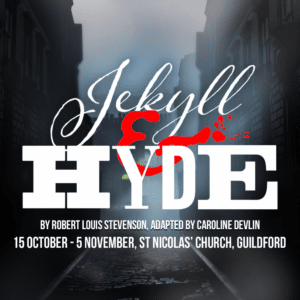 1886. A malevolent creature prowls the fog-shrouded streets of Victorian London. Only two men know its true identity; one of them is dead, the other is in a race against time to discover the awful truth of what he has witnessed and to stay alive…
Robert Louis Stevenson's Victorian gothic masterpiece has fascinated readers and audiences for over 130 years.
The riveting novella explores the respectable Dr Jekyll's association with a mysterious and violent man called Edward Hyde. Through the eyes of Jekyll's friend Utterson, we learn of the diabolical experiment Jekyll has carried out and are brought face to face with humanity's basest capacity for evil.
Now GSC invites audiences to experience Stevenson's gripping tale in a captivating stage adaptation which places a single actor centre stage, playing nine characters including the titular Dr Jekyll and Mr Hyde.
It is written by CAROLINE DEVLIN (Henry V OnComm Awards 2022 Winner) who has revisited her 2013 adaptation especially for GSC and the evocative setting of the Victorian St Nicolas' Church: "Stevenson's extraordinary tale caused shockwaves on publication, Victorians were outraged and tantalised in equal measure and in over 130 years, the story of Jekyll and Hyde has not lost a jot of its power to horrify and intrigue us. From an action as simple as seeing a man unlock a door, we're thrust into the twisted corridors of the human mind and forced to confront our deepest desires and secret fears… ultimately this blisteringly visceral story asks us – what would you do if you knew you could get away with it?"
This will be the first-time director MARIEKE AUDSLEY has worked with GSC, whose previous work includes Julius Caesar for the RSC and Sleight & Hand by Chris Bush at Summerhall in Edinburgh which was broadcast to 30 Odeon cinemas nationwide and BBC iPlayer. As an Associate Marieke has also worked on numerous RSC productions and for the Kenneth Branagh Theatre Company in the West End.
MATT PINCHES, GSC Co-Producer: "When we first read the script we were on the edge of our seats with tension. The conception of it as a one-person show, together with the duality of good and evil embodied in the evocative setting of St Nicolas' Church, bestows an exciting layer to the heart of the story and brings it electrifyingly to life."
The casting of the actor for this 65-minute production will be announced in September.
DATES & TIMES
15 October – 05 November
St Nicolas' Church, Bury Street, Guildford, GU1 4AW