Latest News
Guildford crowns the town's Best Bar None winners  
10th June 2019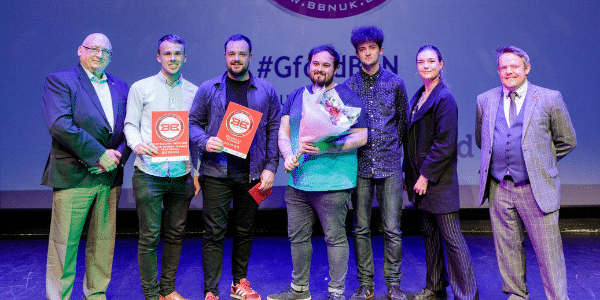 (Mick McDonnell – National Coordinator, Best Bar None, the team at Popworld (overall BBN winners) & Peter Lambert – Town Safety and Venue Liaison Manager, Experience Guildford)
Guildford's pubs, bars, clubs and restaurants celebrated at the Electric Theatre on Wednesday 5 June as the town's Best Bar None award winners were announced following the sixth year of judging. Delivered by Experience Guildford, the town centre's Business Improvement District, in partnership with Guildford Borough Council, Surrey Fire & Rescue and Guildford Pubwatch, the nationally acclaimed awards celebrate best practice amongst the licensed trade, showcasing the hard work and commitment of Guildford's venues to create and run safe, responsible and inviting town centre evening economy businesses.
A record 34 venues put themselves forward for this year's awards, with eight key categories represented. These covered best bar, best pub, best restaurant and best late night venue, with separate entries for independent and national venues for each category.
Each venue that entered was assessed and judged by an expert panel on their delivery of set operational criteria to select individual category winners. The assessment criteria included:
Prevention of crime and disorder
Public safety
Prevention of public nuisance
Protection of children from harm
An overall Guildford Best Bar None award winner was then selected from the winners across all categories, receiving a £500 prize voucher for a team night out provided by leading leased and tenanted pub company, Ei Publican Partnerships.
The winning venues included:
Best Pub Independent: Anchor & Horseshoes
Best Pub National: The Britannia
Best Bar Independent: The Boileroom
Best Bar National: The Long Bar
Best Late Night Venue Independent: Rubix
Best Late Night Venue National: Popworld
Best Restaurant Independent: Positano
Best Restaurant National: TGI Fridays
The overall Best Bar None Award was claimed by Popworld.
Commenting on their sterling performance as both overall winner and Best Late Night Venue from within the National category, Alex Greenhalgh, general manager at Popworld says:
"We're really happy to have won both the Best Late Night Venue and the Best Bar None overall award as it shows that all the hard work from the whole team at Popworld Guildford has really paid off.
"These awards mean a lot to the town and to Guildford as a whole; they've definitely made all of the operators here up their game. Over the years I think the whole town has increasingly benefited from the Best Bar None scheme and it has done much to bring all of the bars together as we have collectively got behind them."
This year Guildford was again delighted to welcome back Mick McDonnell, National Coordinator of the Best Bar None scheme to help present the awards. Commenting on Guildford's commitment to supporting and promoting a safe night-time economy and the strong partnership between supporting organisations, McDonnell says;
"It's absolutely fantastic to be back in Guildford to celebrate the sixth Best Bar None Awards. Seeing so many venues in the theatre this evening not only goes to demonstrate how important the venues take these awards, but also the value that they bring to Guildford as a town by ensuring a safe and vibrant night time economy for all customers to enjoy. It's also great to see the partnership between Experience Guildford, the Fire & Rescue service, the Police, the Local Authority, and of course Pubwatch, as they join together to make sure that when people do come to Guildford they enjoy themselves, have a great experience, but above all, a safe experience."
Peter Lambert, Town Safety and Venue Liaison Manager at Experience Guildford adds:
"Tonight has been another fabulous evening for Guildford's night-time venues, all getting together to celebrate this year's Best Bar None. This year we've had more venues engage with the scheme than ever before, a testament to the awards growing importance amongst the operators of our pubs, clubs and restaurants. These awards are great for the licensed economy of the town, and I'd like to thank both all the venues for getting involved this year and all the partners who support us in delivering this scheme. The work we all do together cements our ongoing commitment to Guildford's night-time economy and our esteemed Purple Flag accreditation.
"Thanks also must go to Ei Publican Partners for providing our overall winner's prize, and to the Surrey Copper Distillery and London Essence Company for supplying the welcome G&T's to get the whole proceedings started."
Cllr David Goodwin, Lead Councillor for Licensing, Parking, Refuse and Recycling at Guildford Borough Council continues:
"The evening and night-time economy are thriving in Guildford, making a significant contribution of £307.5m to the borough's total local economy of £5bn per year. We are proud to be a key partner in the Best Bar None Awards led by Experience Guildford. These prestigious Awards recognise venues that invest in staff training and security to help us to promote our vibrant historic town, ensuring visitors and residents continue to choose Guildford.
"Making sure our town centre bars and restaurants are safe, vibrant places to visit in the evening is a fundamental part of being awarded the acclaimed Purple Flag, which like Blue Flag for beaches, is a mark you can trust. Guildford is the only town in Surrey to hold the award for the past five years and one of only 70 in the UK."
For more information on Guildford's Best Bar None Awards and other initiatives to enhance and promote Guildford's night time economy visit www.experienceguildford.com.