Latest News
Apptaura develop app to support touch-free tourism
20th May 2021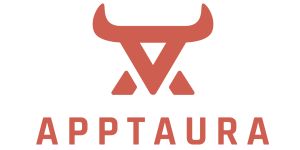 Apptaura have been appointed to develop the exhibition app for a new sculpture trail managed by the not-for-profit event company Destination Basingstoke. Launching this summer, the trail celebrates the centuries-old nickname given to Hampshire residents – Hampshire Hogs. Hand-painted by local artists the trail features 20 individual hog sculptures inspired by our people, heritage and countryside. The exhibits are scattered throughout Basingstoke, encouraging visitors to explore new areas of the town.
The app, which will be available on iOS and Android, is designed to help intrepid hog-spotters, visitors, and local families navigate their way around the trail. It replaces traditional printed exhibition material and maps, and provides a touch-free solution using geolocation and integrated mapping tools to guide visitors around the trail. Each sculpture has its own page complete with artist info, inspiration behind the design, and details of the businesses and organisations sponsoring the individual statue and the wider trail.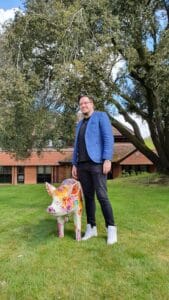 Thom Gibbons, CEO of Apptaura announced:
"We're proud to be a Basingstoke-based business and are extremely excited about working with Destination Basingstoke by developing their Hampshire Hogs app. 
Now, perhaps more than ever, we feel it is important as a business to give something back to the local community and for local businesses to stick together and support each other. The app allows the businesses involved in the trail a unique space to showcase themselves whilst providing a safe, touch-free experience for residents and visitors alike.
We're looking forward to getting our walking boots on and hitting the highways and byways of Basingstoke to do a bit of hog spotting ourselves!"
The trail is aimed at revitalising our town and local retail centres by offering an outdoor, socially-distanced and interactive experience to visitors. The app allows users to track their journey around the trail, check in at each site and navigate to the next hearty Hog. Hog Spotters are encouraged to take and share photos of the sculptures on social media, with the best images being collected and displayed in the app.
Felicity Edwards, Managing Director of Destination Basingstoke commented:
"The last year has been blighted by Covid19 and we're determined that 2021 should be different. Our Hogs are of course immune to Covid, the trail is outdoors and the hogs are in open areas large enough to allow for social distancing. 
We've also been able to go completely contact-free thanks to the app guide Apptaura are developing for us. We're looking forward to working with our sponsors and artists and turning this into a very special event for Basingstoke."
The app lands on app stores this summer, allowing users to download the app and plan their route in advance.
To find out more about Hampshire Hogs head across to https://www.destinationbasingstoke.co.uk/hogs/