The science behind Forest Bathing+ nature therapy
16th April 2021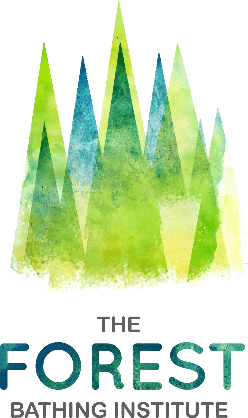 Forest Bathing also known as 'Shinrin-yoku' is a mindful walk-in woodland, under the canopy of the trees. In Japan and South Korea, it is a well-known public health intervention and is used to treat high blood pressure and stress.
But can it be effective in the UK, where we have different cultural values, lifestyle habits and vastly less tree cover – 11% compared with Japan's 70%.
During 2019, The Forest Bathing Institute partnered with Dr Kirsten McEwan at the University of Derby to conduct the first ever UK scientific research study into the physiological benefits of Forest Bathing+, this ground-breaking study revealed incredibly positive results.
After 2 hours of Forest Bathing+ 88% of participants reported an average 29% reduction in anxiety. What was really striking was that 57% of participants showed an increase in their Heart Rate Variability (HRV).  HRV is an indicator of having a good balance in the nervous system and indicates that the body is in its 'rest and recuperative state' or 'parasympathetic system' indicating good cardiovascular health.
Summary from The Forest Bathing Institute and the University of Derby pilot UK Forest Bathing Study conducted in 2019.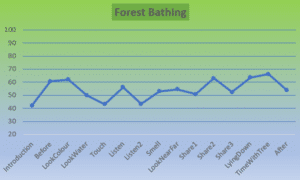 The graph reveals which Forest Bathing+ sensory exercises led to the greatest increase in HRV, such as lying down under the tree canopy and being guided in sensory mindfulness, listening to the sound of running water, smelling the forest air, the mosses, lichens and leaf-litter and spending time quietly with a tree. Sharing experiences with each other as a group was also significant.  For anyone wishing to maximise their Forest Bathing+ experience, these are the exercises to focus on.
So, is there a 'correct dose' that people should be aiming for to optimise the benefits of Forest Bathing+? Dr Kirsten McEwan, Senior Lead Researcher from the University of Derby said; 'Previous studies have shown that benefits (such as a boosted immune system) can last for up to one month. Our study found that by three months, some of the benefits people had reported following their Forest Bathing+ session had dwindled.
Dr McEwan continued; 'This suggests that regular practice is needed, indeed in Japan, Dr Qing Li recommends that Forest Bathing is practised for two hours every two weeks. Depending on the quality of the woodland environment, this should provide a constant boost to the immune system.'
Gary Evans, Co-Founder Director of The Forest Bathing Institute said; 'We encourage everyone to spend as much time as they can in nature, whether that be going for a daily walk in their local park or woodland area. We tend to suggest that people spend whatever time is available to them within their normal routine, and then perhaps extend this as their schedule allows, as they realise how much they are actually enjoying it! We have found that many people are surprised at how much better they feel after only a short period of time! That is the impact that nature has on many of us.'
Top Mindfulness Tips to maximise your time in Nature
Slow down and breathe in the wonderful forest air, taking time to notice your surroundings.
Notice the different types of colour green within your line of vision. Is there a colour that stands out?
Observe the colour of any buds beginning to blossom on the trees, and flowers beginning to bloom.
Notice the different patterns of bark on the trees around you, touch the tree, trace your fingertips on the bark, what does it feel like? Is it smooth, coarse, prickly, warm, or cold?
Tune into the birdsong or the sound of the insects and bees at play, as they dart around pollinating any newly opened buds and flowers.
Smell the scent of the earth and leaf litter on the forest floor, the lichens or moss around you.
And finally, you might just want to sit under a tree and quietly contemplate, letting thoughts drift in and out.
All of these sensory activities help your mind and body to relax and to re-charge.
If this sounds like an experience you would love to explore for yourself, then do book onto one of our Forest Bathing+ nature therapy sessions. We look forward to meeting you in one of our wonderful, woodland environments very soon.
New Career Direction?
Do you love spending time outside in nature? If you are exploring a new career direction, you might like to find out more about training to become a Forest Bathing+ Guide. We work with many of the major landowners across the UK and are currently training people to join our ever-expanding team. You can find out more about what is involved here and also listen first hand to what our Forest Bathing+ Guides have to say too!
TREELAXATION IMAGE AND KIRSTEN WITH LEAVES – DOMINIC WEIL PHOTOS