How professional do you appear to your client when 'on a screen near you' working on Zoom, MS Teams?
14th July 2020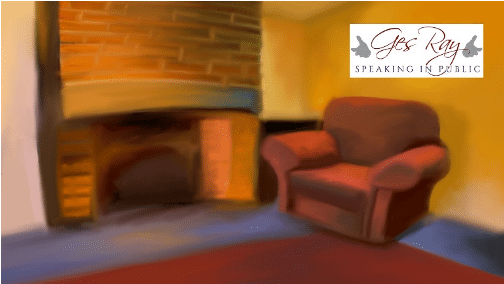 Is this you?
All sorted on the comms front now that you are working remotely, #workingfromhome.
You have read so many 'how to work from home' articles that you never want to see one again.
Ever.
Your communications & conferencing platform – Zoom, Microsoft Teams – has been installed; either your choice or foisted upon you by your organisation. You've watched so many tutorials you now consider yourself a Teams Ninja, or even a Zoombini…
You are now ready to pick up the threads with you clients, ready to continue communicating professionally via a screen near you.
Or are you?
How do you want to show up on screen?
What is the experience for your client on the other side of the screen?
Why does this even matter?
Let's deal with this last question first. You can't get away from being cocooned in a transmedia bubble almost every moment of every day. think of the advertising, the marketing that surrounds you on your social media. On TV. Constantly.
You may be saying to yourself "I can resist the hype!" yet the slickness, the professionalism of the communication surrounds you. Expectations are set.
As a professional, you have been used to setting high standards when meeting your customers 'in the room' that met their expectations. But now you are on screen, in a virtual room.
What impression do you want your client to have of you?
With a few practical measures you can make a positive impact on how your client perceives you on screen. We'll start with the basics. We'll look at three fundamental areas of communicating on screen to help you ameliorate the risk of damaging the relationships with your clients that to date you have worked tirelessly to build, whilst showing you how to be confident, compelling and convincing when engaging with your client on your online platform.
We'll look at visuals, voice, also flipping the Voldemort effect.
Visuals
Is this you?
You are the ultimate professional in your role, and proud of it. Professional Services perhaps, Financial Services maybe, certainly a professional in a role where meeting the client is crucial. You understand the importance of engaging visually with the people in the room. Holding their gaze at the right moment, glancing away within the norms of social acceptance. You know how to do this; it's automatic for you.
Yet now you are on screen.
Think of the times you have been photographed on a mobile phone where, without thinking about it, at the 'say cheese!' you have looked at the screen rather than the teensy camera at the edge. When subsequently looking at the image, you appear slightly detached, a tad disengaged.
It's the same when you are talking to your client on screen. Unless you are fortunate enough to have your camera in the middle of your screen, the temptation for all of us is to look at the face in the middle, not the camera at the edge in the webcam.
Prove it to yourself. Use your 'phone to take a short video of yourself looking at your face. Then record again, deliberately looking at the camera.
Which do you prefer? Which demonstrates engagement? Which will your client prefer?
TIP: look at the camera, not the screen. You will be more engaging.
Voice
Is this you?
Part of preparing for meeting with your client, whether their office or yours, is putting on your 'game face'. Meeting agenda; check. Coffee / tea; check. Ready to smile; check. Bit of enthusiasm here, bit of empathy there, all with an engaging smile. Engaging conversation, engaging stories. You know how to do this; it's automatic for you.
But now you are on screen.
Today you have an early call booked in the diary on a chilly morning. No office colleagues to talk to; you've ne'er said a word to anyone since yesterday evening other than a cursory grunt to the cat / dog as you made breakfast. 'No one to talk to' – it's enough to make you sing it…
Now cometh the allotted time; your client appears on screen. Why is it that two minutes into the call you have a frog in your throat? Why is there a feeling of disengagement to the conversation?
We can deal with the frog (voice preparation) in a later article. Let's focus for now on the disengagement.
You are already aware that smiling is fundamental to the warmth of your greeting.
You may not be aware that when you smile, this lifts the soft palate at the back of your throat, making your voice sound warmer, more engaging. If like me you are an amateur singer, you will be used to the MD encouraging you to smile. They know it creates a warmer ensemble.
In conversation with your client in the office, you probably do this automatically. Yet without the usual preparation prompts around you, without the trigger of being in the office or client meeting room, it's easy for the 'I haven't had my coffee yet' home face to replace the game face. The one you normally have when sitting at your desk. Less animated, less smiley, more serious.
Prove it to yourself. Again, using your phone or device record a small clip with that pre-coffee home face. Then record the same clip again with a deliberate effort to be smiley & engaging.
Looking at the recording through the eyes of you client (remembering that few of us enjoy seeing ourselves on screen!). Which is the warmer, the more engaging? Which would your client prefer?
TIP: Make a deliberate effort to smile on screen. You will sound warmer, more engaging.
Flipping the Voldemort effect
Is this you?
Ever the consummate professional, you prepare thoroughly for client meetings. Your dress style is appropriate to the situation, the venue, also the client. Indeed, you are sensitive to your client's venue preferences, and if like me in my Bank Manager days looking after High Net Worth clients, you probably even know their biscuit preferences…
You know how to do this; it's automatic for you.
But now you are on screen.
How does the venue match your client's preferences now?
We can work on blurring and green screens another time; for now, let's look at what is in view.
Is the biscuit that your client sees the half-eaten digestive from your morning coffee, that you thought you had shoved out of view?
In your office, papers & files would be neatly filed away. What's that scruffy collection stacked to the side of you, behind you?
I may be doing you a complete injustice here, in which case my apologies! But prove it to yourself. Go stand the other side of the desk – or as close as you can if it's against the wall – to view the 'venue' through the clients' eyes. Then open your platform on screen to look not at yourself, but at what is around you, what your client sees, as part of your preparation for your meeting.
TIP: Prepare your virtual meeting room as professionally as you would prepare your meeting room.
Yes, I can hear you asking. What has Harry Potter's 'He-Who-Must-Not-Be-Named' got to do with you appearing on screen rather than…he who must not be named?
If you flip the Voldemort effect, you have He-or-she-Who-MUST-be-named. Why shouldn't that be you? Why shouldn't you be the one who is remembered – named – because you:
Were as engaging with your client visually as you are with them in the room
Were as engaging with your client with the use of your voice as you are with them in the room
Were as respectful to your client in the preparation of your virtual room as you are in the room
Why work with Ges Ray?
Ges' skills are built on a background of four decades of commercial roles, from Bank Manager to Business Development Manager twinned with four decades of Public Speaking, delivering workshops, Keynotes, MC and radio broadcasting.
Add into the mix a personal passion for choral singing (2nd Bass voice if you are interested, but only ask him about recently singing in Carnegie Hall, New York if you have time for the answer…). Ges delivers for you an effective mix of voice skills, business & presenting experience to equip you and your team with the skills to speak & present for your business.
With 140+ testimonials on LinkedIn – https://uk.linkedin.com/in/gesray – Ges delivers a toolkit for business delivering the confidence to stand up and address clients & meetings, confidence to present via other media, confidence to network to win business.
Author of 'Speak Performance' – a handy pocket / bag size book to take with you on the train, dip into over a coffee ahead of your meeting to refresh your memory of helpful techniques that you can use immediately:
https://www.amazon.co.uk/Speak-Performance-confident-compelling-convincing/dp/1907282874
Also available on Audible: https://www.audible.co.uk/pd/Speak-Performance-Audiobook/B084T549M8
Speak Performance business roles include specialist public speaking 'Growth Champion' with Coast2Capital Local Enterprise Partnership, Ambassador for East Surrey with Surrey Chambers of Commerce, Professional Member and Regional Co-President of the Professional Speaking Association, MC & Advisor to TEDx Woking. Networking memberships include the Institute of Directors Advance, The Executive Network, Branduin Business Support.
In a personal capacity Ges is Trustee & Vice Chairman of the Leith Hill Musical Festival, also Trustee of the New Surrey Performing Arts Library.
Ges welcomes talking with you on LinkedIn, Twitter, Facebook, Zoom & Skype, and let's not forget a good old fashioned 'phone call.
Contact details:
Email:               ges.ray@speakinginpublic.info
Tel:                  +44 (0) 794 108 3722
Twitter:            @gesspeaking
LinkedIn:          http://www.linkedin.com/in/gesray
Facebook:         https://www.facebook.com/ges.ray
Website:           www.speakperformance.online