5 Tips To Find Business Opportunities In The New Normal
30th July 2020

At Business Doctors we have been supporting businesses throughout Surrey with questions and concerns they have had during the lockdown period. We have helped hundreds of business owners with everything from cash flow preservation to loan and grant applications through to pivoting to survive.
We are pleased and encouraged to see businesses return to a new environment and new world. Albeit we encourage business owners to take a fresh look at their business and how it will now operate after this global, seismic event. The definition of insanity is doing the same thing again and again and expecting a different result.
What is a business coach?
A business coach will assist and guide the business owner in running the business and helping them to clarify their vision of their business and how it should fit with their personal goals.
Many Business Leaders find themselves at a point of frustration, or decision where they realise that something needs to change. It may be because growth has stagnated, there may be high turnover of staff, or they may just feel that they want a bit of their life back. It may also be that they are simply ambitious and have an opportunity before them that they want to exploit.
We use a process to take a business from where it is now to where the business owner wants it to be.
Why work with Business Doctors?
As Business Doctors we have all has experience of running businesses in management roles. We strongly believe that our business experience and support can make a real difference to you. We have a collaborative hands on approach and we always ensure that we are offering a tailor made response to your requirements.
No two businesses are the same and nor should be the approach to support you
We work with you and your team to develop strategies to carry your business into the future. We recognise a strategy alone isn't enough. You need teamwork, mentoring, monitoring and encouragement. Think of us as an ally. Holding you accountable as we carry your business forward, together.
Here are our 5 tips for to help your business find opportunities in the new normal.
Spend the time to understand the current situation in your market
By staying agile and responding quickly you can improve on how you position your business
Look at where your business is spending money and considering which expenses are avoidable
Efficiency is crucial to being successful and emerging stronger
Some businesses are suffering more than others right now- look at businesses that are making it through the crisis and learn what they are doing differently
Are your customers going to change how they think or act?
Consider whether the usual way of working still makes sense
Most of all keep an open mind and stay positive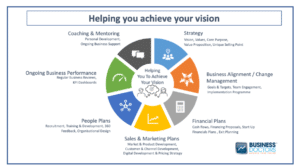 For a no obligation discussion about your business feel free to email us at
Becky.upton@businessdoctors.co.uk