Latest News
Sight for Surrey Prepares for it's Showcase Event
15th September 2017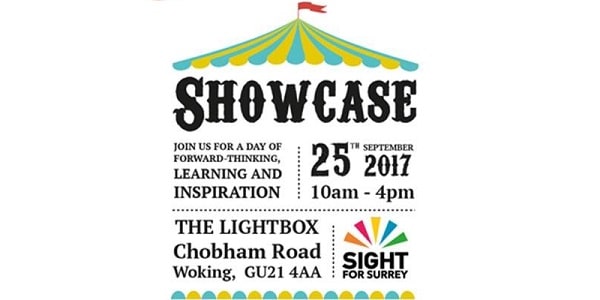 Sight for Surrey prepares it's Showcase Event at the Lightbox in Woking on Monday the 25th of September.
The aim of the Showcase is to celebrate Sight For Surrey's newly agreed contract to support the Deaf and hard of hearing in addition to the continued services we provide for the blind, vision impaired and Deafblind. As part of the day, we will also be looking to the future and launching the organisation's new five-year strategy.
Core themes for the day are Employment and Sports Participation and central to this are speakers who are admired and respected by the communities we support. We are delighted to have confirmed speakers, Robin Christopherson MBE, Head of Digital Inclusion at AbilityNet and James Clarke, a Deafblind marathon runner who won a hundred running medals in eight years.  Alongside the day's core programme, our Children and Young People's Service will be running a morning programme of arts and crafts activities (including tasty smoothie making), which will seamlessly switch to an afternoon programme of sports activities open to all, including guide running along the Basingstoke canal.
With events planned throughout the day between 9:30am and 4pm, and the opportunity to visit our extensive exhibition area, there's something for everyone.
If you're interested in coming to the event, visit www.sightforsurrey.org.uk/events/sight-surrey-showcase-event/
Sight for Surrey are an ambitious charity offering a lifetime of support to people who are Blind, Deaf, deafblind and Hard of Hearing. They provide specialist and practical support, guiding you through the little steps today and the breakthroughs in the future.