Video
The Surrey Lieutenancy Arts and Culture Webinar
25th June 2021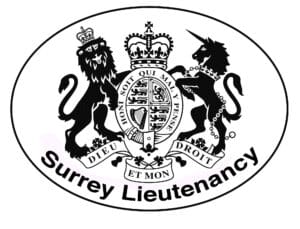 Please note: there is some video feedback in the first few seconds of the virtual event. Please skip to 0:25 to start the event
Event date: 23rd June 2021
The Lord-Lieutenant of Surrey, Michael More-Molyneux, hosted an Arts and Culture webinar on Wednesday 23rd June on zoom. Over 100 representatives from the county's arts and cultural organisations, local councils, universities, schools and well-being charities attended the event, as well as artists and freelancers, arts enthusiasts, volunteers and representatives from national arts bodies.
The purpose of this 1.5 hour breakfast meeting was to start a conversation with all those involved in arts, culture and heritage to find a way to strengthen the contribution and impact of this vital area on the identity, role and well-being of Surrey. This is especially vital as communities and individuals start to rebuild, following the pandemic.
The idea for this webinar event came from the Surrey Lieutenancy Arts and Culture Focus group, which aims to throw a light on Surrey's strengths and needs in this area to support its growth.
The programme for the webinar:
Chairman: Perdita Hunt, OBE DL
Welcome – HM Lord-Lieutenant of Surrey, Michael More-Molyneux.
Introduction – Dame Penelope Keith, CBE DL.
Three interventions:
1) Arts and Culture in Surrey – what we are proud of and what we need:
Convenor Alistair Burtenshaw, Director of Watts Gallery – Artists' Village.
2) Arts and Culture in Surrey – the impact on social well-being and what we need: Convenor Sally Varah, DL, Lieutenancy Arts and Culture Focus Group.
3) Arts and Culture in Surrey – the economic impact and what we need: Convenor Marie Snelling, Director of Communities and Transformation at Surrey County Council.
Breakout discussions – your views.
Observations and thoughts: Sir Richard Stilgoe, OBE DL.
Objectives for the day:
To inform a Surrey Arts & Culture strategy for post-pandemic recovery.
To make connections, make connections and support the future needs of organisations and individuals involved in arts, culture and heritage in Surrey.
Two short films entitled 'The Value of Arts & Culture in Surrey' were screened during the webinar:
'Looking to the Future' – in intervention 1
'Impact and Collaboration' – to end
Credits:
An Arts & Culture Surrey Collaboration
Facilitated by the Surrey Lieutenancy
Convened by Watts Gallery Trust
Produced by Brooklands Museum TV
With special thanks to Mark Jarman and all the contributors.
Intervention 2 featured presentations by:
Hannah Dix, Creative Response Farnham
Karl Newman – Disability Arts [DAiSy] in Surrey
Carmel O'Shea, Patchworking Garden, Dorking
Sally Varah DL, Creative arts in prison
Elaine McGinty, Phoenix Cultural Centre, Woking.
Next steps post webinar:
The strongest requests for next steps in the light of the emerging themes were:
Create an audit of what is happening in the county and compile a list of contacts. This would support the connectivity and help with awareness.
Develop a 'cultural trust' which could lead the development and implementation of an arts and cultural strategy for Surrey.
Develop an elevator pitch for the sector and provide the framework for gaining more investment and identity.
Continue the connectivity between individuals and organisations digitally or in person.
If you are interested in joining the conversation please contact:
Caroline Breckell DL, Surrey Lieutenancy: caroline.breckell@surreycc.gov.uk
Sue Wills, Surrey County Council: Susan.Wills@surreycc.gov.uk
Chris Howard, Visit Surrey: choward006@googlemail.com