Latest News
Surrey diabetes firm is calling the shots on healthy living at Aldershot Town FC
15th October 2018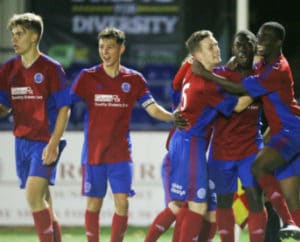 A Surrey healthcare company is hoping fans of Aldershot Town will support their bid to raise awareness of Type 2 diabetes.
Woking-based GlucoRx, a major supplier of quality diabetes products to the NHS has already struck a deal to sponsor the East Bank stand for the fourth season running – and has now agreed to sponsor the youth team's 2018-19 playing shirts.
The name of the ethical medical supplies manufacturer will be emblazoned on all 276 shirts worn by players aged from eight to 16 throughout the season.
Chris Chapman, GlucoRx Group Managing Director, said the reason why the company had continued its involvement with the club was to promote important health messages.
He believes that learning about healthy eating and exercise at an early age could prevent Type 2 diabetes and obesity in later life.
He said: "I personally cannot think of any better vehicle to get this message across than football. It is a great opportunity to encourage healthy eating habits amongst youngsters involved in the sport, but will hopefully also trigger a reminder of the importance to eat healthily and exercise to supporters, parents and all those with a love of the game.
"I am really pleased to have extended our sponsorship to the youth team. We hope to really make a difference to our local community and also hopefully thousands of lives in the future."
It is estimated that 10 per cent of the NHS' total £100 billion budget is spent treating diabetes every year – amounting to £192 million per week. More than three million people are already affected by the lifelong condition with the figure expected to rise to 4.6 million by 2030.
Shahid Azeem, the club's chairman, said: "I would like to thank GlucoRx for their continued support.
"It is extremely important for us to develop relationships with companies such as GlucoRx, who are doing some incredible work to promote healthy living. This work goes hand-in-hand with supporting the education of players within the club's youth department to ensure all local children begin to value the importance of leading a healthy lifestyle.
"Their long-term support has helped to ensure that we are not only portraying a professional image, but also gives us the opportunity to provide our players with additional developmental support which will help to make them better football players and better people."
GlucoRx has helped save the NHS £150 million in the last three years by supplying it with state-of-the-art diabetes equipment.
Supplying over 150 Clinical Commissioning Groups, it is also committed to reinvesting profits and cost savings for care of the local community, towards extra nurses, newer equipment and greater research. Some products, including blood glucose meters which use the latest enzyme technology, are even given to surgeries and hospitals free of charge.
Aldershot's youth team was launched in January 2016 and plays in the NERF Junior Premier League, playing matches against Premier League, Championship and local Academy sides.