Latest News
Surrey-based Marketing Entrepreneur Jarmila Yu Named a Finalist in The Best Business Women Awards 2021
26th August 2021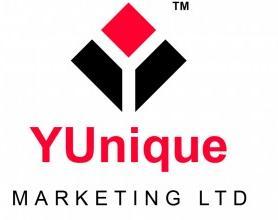 The Best Business Women Awards have announced their finalists for 2021 which comprises an amazing line up of incredible business women from across the globe. Pushing through the pandemic, these women continued to drive their businesses forwards. The judges were impressed by the creativity, tenacity and great business acumen demonstrated in the finalists selected. The Best Business Women Awards are designed to recognise the achievement of exceptional women across a wide range industries.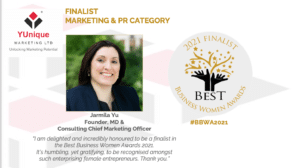 Surrey-based marketing entrepreneur, Jarmila Yu from YUnique Marketing Ltd, has been shortlisted as a finalist in the Best Business Woman Awards 2021 in the Marketing & PR Awards category.
Founder and MD of YUnique Marketing Ltd Jarmila Yu comments "As every business owner knows, the past 18 months have been extremely challenging, and a real test of our resilience, creativity and innovation. However, getting recognised by being named a finalist for this highly prestigious award has been like a massive ray of sunlight at the end of a very long tunnel. It was a huge leap for me to start my own strategic marketing consultancy 5 years ago, but now is the exciting period of recovery and opportunity for every business woman, and being nominated is such a great boost. This is so meaningful for us and for our clients, business communities and causes we've supported through the pandemic and beyond."
Debbie Gilbert, organiser of The Best Business Women Awards said "The 7th year of these prestigious awards has proved to be the most challenging for business owners worldwide. The entries were judged by a panel of business experts who had a tough job reading hundreds of entries. To be a finalist in this competition is a major achievement and a mark of quality. All our finalists either win a Silver or Gold Award. The businesswomen selected have been chosen for their business acumen, determination, creativity, and tenacity. All our finalists are all shining examples of being successful entrepreneurs who have proved their success to our judges."
The Gala Final will be held at the Hilton Wembley on 15th October 2021 where the Gold Winners of each category will be announced.