Latest News
Sparkling 2018 Awards celebrate the borough's successes and growth
9th October 2018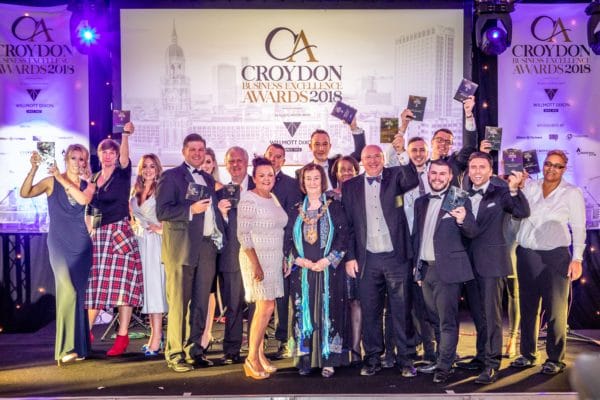 The 2018 Croydon Business Excellence Awards Winners!
Croydon's business community celebrated a year of success and growth at the 2018 Croydon Business Excellence Awards in association with Willmott Dixon.
And not even a World War Two bomb unearthed nearby could stop the party going off with a bang! After a slight delay at the start, the festivities hosted by TV presenter Michael Underwood got underway.
Over 400 people attended the sparkling Gala Dinner Awards Ceremony and Charity Ball, at The Grand Sapphire Hotel Banqueting Hall on Thursday, 4th October.
There were inspirational speeches praising Croydon's ambitious and community minded businesses, by Mayor of Croydon Councillor Bernadette Khan; Leader of the Council and Cabinet Member for Budget and Strategic Policy, Councillor Tony Newman; as well as Clive Fuller, Director of headline sponsor Willmott Dixon.
Twelve category awards were presented over the evening, including the premier prize, Croydon's Business of the Year, which went to Bluebird Care, which delivers homecare and support services across the borough.
Delighted Bluebird Care Director Dean Slade told guests: "This is a big surprise. We have 60 staff who provide excellent care to the borough of Croydon.  I really want to thank them all as they make this business great. Hopefully this award will encourage more people to think about becoming care assistants, because it's a great career."
There was a theme throughout the night of giving back to the community. Clive Fuller, New Business Director of headline sponsor Willmott Dixon and a judge in the awards process, praised Croydon's businesses for their community spirit and asked them to think how they could support more of the local community.
He said: "We have been very active in Croydon over the last five years, delivering over £150million of improvements and expansions to the education provision. But we are also a business contractor with a heart that wants to make a difference and that is why we decided to sponsor these awards. When we work in a community we want to leave a positive impact. So for me, to be here tonight with like-minded businesses is a pleasure – it has been an honour to hear your stories and an honour to read your applications for the awards and it is great to hear you are making a difference."
Two new community awards, sponsored by London Borough of Croydon, were presented over the evening. They are Love Your Local Trader, won by Nix Hair and Beauty of South Norwood, and Inspirational Young Person of the Year, won by Laurence Grant, co-founder of networking company Shaking Hands.
Laurence commented: "It's been amazing to start a business where your job is to go out and make friends with people. I want to give a shout out to my team and one really big cheer to, not only for the council, who I think do an amazing job for Croydon, but also to White Label, the awards organisers, for uplifting the Croydon business community with events like the Food Festival, the Business Expo, and the Awards. We are really grateful to be part of such an amazing community."
Thanking the sponsors and the businesses contributing to Croydon's economy and growth, Croydon Council Leader Tony Newman said: "There are billions of pounds of investment coming into our borough at the moment. Croydon is now the eighth largest city in the country, with a population approaching 400,000, and 93,000 young people. Everything we can all do to give those people a strong future and a career to be proud of, is hugely important."
A raffle and charity auction compered by host Michael Underwood raised money in aid of Croydon Commitment and the Mayor of Croydon's chosen charity, Cancer Research UK. Katharine Glass, Managing Director of Awards organiser, White Label, thanked everyone who donated prizes for the raffle and auction. She also thanked all of the sponsors who made the entire event possible.
Guests at the reception enjoyed a sparkling reception sponsored by Handeslbanken, followed by a three-course dinner with wine, and an after party with a casino, fun photo booth and dancing to live music by City Limits.
*The fourth annual Croydon Business Excellence Awards in association with Willmott Dixon celebrates the achievements of the borough's vibrant business community. The awards are sponsored by Willmott Dixon, Allianz Partners, AMP House Serviced Offices, Chequers Contracts Croydon, Connected Space, Green Network Energy, London Borough of Croydon, Superdrug, and Sussex Innovation Centre and supported by Costco Croydon, Croydon Advertiser, Croydon Chamber of Commerce, Grand Sapphire, Handelsbanken, Insight 6, Mobile Bar Hire and Woods Jewellers.
Pictures from the evening can be found here: https://croydonawards.co.uk/2018-winners/
The 2018 Croydon Business Excellence Awards Winners:
Business of the Year sponsored by Willmott Dixon     
Winner – Bluebird Care Croydon
Best New Start Up   
Winner – Cozy Glow
Highly Commended – The Ludoquist
Commended – Black & Blanc Company Ltd
Women in Business sponsored by Superdrug  
Winner – Julie Agbowu, All Inclusive Advice & Training
Highly Commended – Louise Hazelden, LAH PROPERTY MARKETING LTD
Commended – Michelle McDonald, Hyde & Rowe Limited
Best Business for Customer Service sponsored by AMP House Serviced Offices
Winner – Bluebird Care Croydon
Highly Commended – Coversure Insurance Services Croydon
Commended – Indigo
Best Business for Tech & Innovation sponsored by Connected Space      
Winner – Kingfisher APS
Highly Commended – Cullens Clearances Ltd
Commended – Natterbox
Best Charity or Social Enterprise sponsored by Chequers Contracts        
Winner – All Inclusive Advice & Training
Highly Commended – Croydon Commitment
Commended – Age UK Croydon
Best Employer
Winner – Cleankill Pest Control
Highly Commended – Bluebird Care Croydon
Commended – Frontier Support Services Limited
Commitment to the Community sponsored by Allianz Partners     
Winner sponsored by Caridon Property
Highly Commended – Croydon College
Commended – My Super Connector
Commended – East Croydon Cool
Entrepreneur of the Year sponsored by Sussex Innovation Centre, Croydon      
Winner – Justin Owens, Silverleaf Group
Highly Commended – Dexter Simms, Mula Cake
Commended – Jason Antill, Pure RES Ltd
Love Your Local Trader sponsored by London Borough of Croydon          
Winner – Nix Hair & Beauty
Highly Commended – Andrew Franklin Photography
Commended – Heather Bailey Optometrists Ltd
The Cultural Impact Award          
Winner – Croydonites Festival of New Theatre
Highly Commended – Zoo Co Theatre LTD
Commended – Apsara Arts
The Inspirational Young Person of the Year – London Borough of Croydon           
Winner – Laurence Grant, Shaking Hands
Highly Commended – Fabio Schifano, Croydon Council
Commended – Rebecca Russel, Croydon College
The SME Excellence Award – Green Network Energy
Winner – Nouveau Lashes
Highly Commended – Return2Play Ltd
Commended – Cleankill Pest Control