Latest News
Celebrate Christmas at The Lightbox Arts and Craft Fair
9th October 2018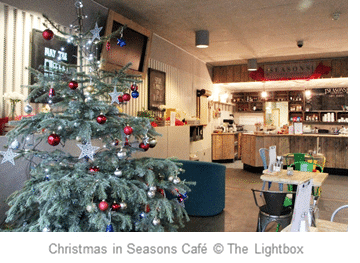 Saturday 1 and Sunday  2 December 2018
 This festive season The Lightbox gallery and museum has everything you need to get into the Christmas spirit.
Get a head start on your Christmas shopping with a visit to The Lightbox's annual Arts and Craft Fair, taking place on Sat 1 December 2018, 10.30am – 5.00pm and Sun 2 December 2018, 11.00am – 4.00pm. The Arts and Craft Fair features stalls from over 30 of the best independent and local vendors, including delicate hand-made silver jewellery inspired by nature from artist Caroline Thomson as well as sweet syrupy goodness from the local raw honey producer Busy Bees Honey. With so many different stalls, you can get your Christmas shopping out of the way early, stress-free, and have more time to spend with family and friends.
It wouldn't be Christmas without a little music! So alongside these festive gifts and goodies, live music from festive recorder group Reformed Recorders will jingle all the way through the building throughout the Arts and Craft Fair.
Christmas shopping undoubtedly works up an appetite, so Seasons Café are on hand, serving up a special seasonal menu for the course of the Christmas season. Wash down those first festive Advent chocolates with a warming mulled wine, stuff your bellies to the brim with hot tasty mince pies, or put your feet up and tuck into Seasons' Christmas club sandwich, between exploring the galleries and browsing the goodies in the Shop.
As stressful as Christmas gifting can be, it doesn't have to put a strain on your purses. With discounts in the Shop for Friends over the festive period, you can rest easy knowing you won't have to break the bank this Christmas to delight your loved ones with unique, hand-crafted presents. There's no better place to browse for your Christmas gifts, as every purchase from the Shop supports The Lightbox charity, as well as the independent small business suppliers that stock its shelves with their crafts and creations. It's the perfect way to share the joy this festive season with gifts that give back.
Overlooking the Basingstoke Canal, The Lightbox is a stunning location to host a party or event. If you're searching for a unique venue to host your Christmas party, the light, airy and contemporary design and Modern British art lining the walls makes The Lightbox an unforgettable setting.
For more information about the festive period at The Lightbox, please visit thelightbox.org.uk, call 01483737800, or email info@thelightbox.org.uk.