Latest News
New Deputy Leader and Executive Changes Announced
17th March 2021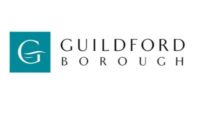 Deputy Leader of the Council, Cllr Caroline Reeves and former Mayor of Guildford, Cllr Gordon Jackson stepped down from the Council on Friday after serving our residents for a total of over 25 years. Cllr Jan Harwood, ward Councillor for Merrow, is the new Deputy Leader of the Council.
Former Leader and Deputy Leader of the Council, Cllr Reeves, represented the Friary & St Nicolas ward from 2005, and was Leader from May 2019 to October 2020, including March 2020 as the country went into lockdown due to the Coronavirus (Covid-19) pandemic. Cllr Jackson, our 2016-17 Mayor, has represented Pirbright since 2010.
Leader of the Council, Cllr Joss Bigmore says:
"I am sorry to see Cllrs Reeves and Jackson leave the Council and thank them for their excellent work in representing our residents and wish them well for the future. Both have served our borough in key roles, as Leader and Mayor, with great dedication and commitment. Cllr Reeves led the Council with strength and compassion during the first part of the pandemic last year, and Cllr Jackson has been a great champion for our borough as a hub for innovation, technology and entrepreneurship."
Cllr Reeves says:
"I have thoroughly enjoyed immersing myself in my community and being part of the wider borough community over the last 15 years. Thank you to everyone who has supported me, especially in my ward of Friary & St Nicolas.
"I have had some extraordinary experiences and met amazing people in all walks of life. It has been an honour to serve my community and to help our residents as we entered the most difficult and uncertain period of our lives last year. The response of the community to this pandemic has been heart-warming and a true reflection of the community spirit that we have here."
In addition to serving as Mayor of Guildford, Cllr Jackson founded the Innovate Guildford science and arts festival as well as the Guildford Innovation Awards, to celebrate creativity across the borough. He was also Chair of our Climate Change and Innovation Board.
He says:
"Being a Councillor is all about being a part of the community, and in my year as Mayor of Guildford I met so many unsung volunteers who give their time to the people of Guildford. Being Mayor really helps you understand Guildford and know what is going on. We have a wonderfully creative community and I really enjoyed working with so many dedicated people.
"One of the highlights of my time as Councillor has been the work we've done to bring together our residents with the University and local businesses. They have all contributed to Guildford's great tradition of innovation in many fields and I look forward to that continuing in the future."
Leader of the Council, Cllr Joss Bigmore explains: "I am pleased to welcome Cllr Harwood as the new Deputy Leader of the Council and look forward to working with him as we continue our shared R4GV and Liberal Democrat Executive. These are still challenging times, but we have hope now with the vaccination programme and the government road map. We will continue to work together to support and lead our borough as we move into recovery.
Cllr Harwood says:
"I am honoured to be able to serve Guildford as Deputy Leader of the Council. Though it is somewhat daunting to try and fill Cllr Reeves' shoes, as a giant of her community and Guildford as a whole, I look forward to working with our Executive partners in continuing to deliver a shared vision for Guildford.
"I am also thankful for the opportunity to integrate my areas of interest, namely climate change and housing, more deeply into the identity of the council as a whole."
Cllr Julia McShane is the new Lead Councillor for Community and Housing.
Cllr McShane says:
"I am very pleased that Community and Housing have been brought together in one portfolio, as they are so closely aligned and impact the everyday lives of our residents across the borough. This is an exciting opportunity to work with colleagues across the council and our Executive to find creative and flexible ways of developing homes for local people and reducing the numbers on our housing waiting list."
Cllr Tom Hunt is the new Lead Councillor for Development Management.
Cllr Hunt says:
"I am excited by the challenge which lies ahead, and look forward to serving the borough further by taking my place on the Executive. After her sixteen years on the Council, Cllr Reeves is a tough act to follow, but I aim to continue her excellent work in the coming months and years."