Latest News
NATWEST EVERYWOMAN AWARDS 2021 FINALISTS ANNOUNCED
1st November 2021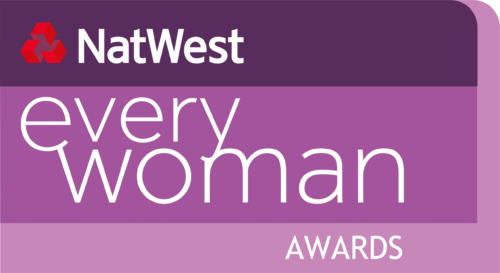 Nineteen extraordinary women from across the country have today been unveiled as the 2021 finalists in the UK's leading programme for female entrepreneurs, the NatWest everywoman Awards. Selected from nearly 1,000 entries, the finalists' stories tell of success in the face of adversity and demonstrate that even they are not immune to the challenges of the past 18 months.
Now in their 19th year, the NatWest everywoman Awards celebrate female entrepreneurs from all walks of life, providing a platform for them to share their achievements. From the founders of multi-million-pound empires to those spearheading social enterprises for the greater good, this year's finalists are the role models whose success will inspire future generations of female entrepreneurs.
The 2021 finalists span diverse industries – from home accessories and cooking supplies through to law and architecture, from IT and energy to health supplements, and from milk to gin. The 2021 finalists were chosen by a judging panel comprising some of the UK's top business figures including Chrissie Rucker OBE (The White Company), Helen Pattinson (Montezuma), Rosaleen Blair CBE (Alexander Mann Solutions), Roni Savage (Jomas Associates), Annoushka Ducas MBE (Links of London/Annoushka), Melissa Odabash, Kelly Hoppen CBE and Sam Smith (FinnCap).
Female entrepreneurs face many complex challenges in setting up, growing and sustaining their businesses. From gender stereotypes to a lack of access to finance, a range of barriers can prevent women's businesses from thriving. Earlier this year the Cherie Blair Foundation for Women reported that 1 in 10 women cited the pandemic to be the greatest challenge they had ever faced and 4 in 5 reported a negative impact on their business. Many of this year's finalists were forced to pivot their businesses as the pandemic hit and their journeys, with successes and failures, serve as a handbook to future generations of how to survive and thrive against the odds.
The award winners will be announced at a ceremony on 7 December 2021 when the cream of business will once again unite to celebrate the achievements of these extraordinary women.
The 2021 awards finalists are:
· ARTEMIS – sponsored by Mastercard – Awarded to the most inspirational woman running a business trading for 18 months to 3 years:
o Emma Parkinson, International Energy Products, from Chesterfield
o Julie Bishop, IT Naturally, from London
o Anshu Ahuja & Renée Williams, DabbaDrop, from London
· DEMETER – sponsored by Nutriment – Awarded to the most inspirational woman running a business trading from 3 to 5 years:
o Sarah Bolt, Forth, from Chepstow
o Brie Read, Snag Group, from Livingstone
o Alice Stephenson, Stephenson Law, from Amsterdam
o Ellen Wakelam, In The Welsh Wind Distillery, from Cardigan Bay, Wales
· ATHENA – Awarded to the most inspirational woman running a business trading from 6 to 9 years:
o Hannah Dale, Wrendale Designs, Brigg
o Nicola Lando, Sous Chef, from London
o Monica Ludwiczak, Sleek Brows, from London
· HERA – sponsored by Saunderson House – Awarded to the most inspirational woman running a business trading for 10 years or more:
o Barbara Griffiths, DairyLink UK, from Stone, Staffordshire
o Johann Muldoon MBE, Manor Architects, from Northern Ireland
o Farzana Rahman, The Desi Doll Company, from London
· GAIA – sponsored by Montezuma – Awarded to the most inspirational and successful female founder of a social enterprise who has combined strong community benefit with a sustainable business model:
o Rosie Ginday MBE, Miss Macaroon, from Birmingham
o Ebinehita Iyere, Milk Honey Bees, from London
o Monique & Eliza Ribeiro, Lives Not Knives, from Croydon
· APHRODITE – sponsored by Daily Mail – Awarded to a woman who founded her business whilst raising a child/children aged 12 or under:
o Georgia Metcalfe, The French Bedroom Company, from Haywards Heath
o Pauline Paterson, Dr PAWPAW, from Bromley
o Lottie Whyte, MyoMaster, from London
Speaking about the finalists, Maxine Benson MBE, co-founder of everywoman comments: "For nearly two decades these awards have provided a platform to share the stories of hundreds of entrepreneurs; encouraging, emboldening and empowering other women to follow suit. Against a backdrop of Covid, these women have shown how innovation and enterprise have helped their businesses to thrive under extraordinary trading conditions. We hope their experiences will go onto inspire others and provide the motivation and inspiration that will be the backbone of the UK's economic recovery."
Jen Tippin, Chief People & Transformation Officer at NatWest Group, says: "This year we celebrate the 19th year of the NatWest everywoman Awards which continue to celebrate and showcase the wealth of female talent from across the UK. Shining a light on the phenomenal female entrepreneurial talent and those inspirational role models has never been more important during these uncertain times. I want to congratulate all the shortlisted finalists and look forward to the Awards on the 7th December."
For further information or to book a table at the virtual awards ceremony, visit www.everywoman.com/ewawards