Latest News
Freeports – part of the post-pandemic British Revival
16th July 2021

In the Queen's speech, the UK government announced several measures to help the country bounce back from the impact of the coronavirus pandemic and Brexit. One such announcement was the establishment of new Freeports as a means of boosting trade, creating jobs, and stimulating investment.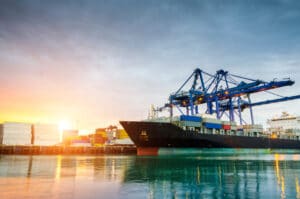 Freeports are designated areas where different customs rules apply – so they are effectively outside the customs border and are normally located around shipping ports or airports. Thus far, the Freeports announced in England will be located at East Midlands Airport, Felixstowe & Harwich, the Humber region, the Liverpool City Region, Plymouth, the Solent, Thames and Teesside. There are also plans for further sites in Scotland, Wales and Northern Ireland.
The idea is that the Freeports could boost trade and deliver real value to the UK economy over the next decade. They have been positioned as an opportunity for businesses that are hungry for a new challenge. It is hoped Freeports – which can be up to 45km (27 miles) across – will help regenerate deprived areas, as part of the Government's 'levelling-up agenda'.
At Western Union Business Solutions, the very nature of our work in Forex and global payments means that we extensively support industries and organisations that trade internationally. One of our partners, Mersey Maritime who represents hundreds of local maritime businesses, has welcomed the news about Freeports. Their Chief Executive Chris Shirling-Rooke, said, "Initiatives such as this are crucial to the continued growth of the maritime sector. We are excited about the prospects for investment, job creation and the development of coastal areas. We've estimated that this has the potential to create 14,000 new Liverpool City Region jobs as well as a GVA boost of £850m and incentives to hit net zero carbon targets. If you look at it at a national scale, those figures are even more appealing to the British economy as a whole."
New prospects for international trade
Goods that come into a Freeport are exempt from tariffs that would normally be paid to the government. These taxes are only paid if the goods leave the freeport and are moved elsewhere in the UK. Otherwise, they can be sent overseas tariff-free. There is also a lot less red tape involved in the import-export process, meaning operations are smoother and much speedier.
All of which presents an exciting new opportunity for importers, exporters and manufacturers. By choosing to operate within one of the Freeports, they can make, import or export goods tariff-free and with minimal regulation, achieving a very tangible competitive edge.
There is good news for many other businesses as well, such as those supporting the suppliers and manufacturers, like shipping companies, construction companies and service providers. The hope is that the Freeports will serve as national hubs for global trade and investment across the UK, promote regeneration and job creation, and create centres for innovation, bringing prosperity to the surrounding areas.
In England, companies inside the sites will be offered temporary tax breaks. These include reductions to the tax companies pay on their existing property, and when they buy new buildings. Furthermore, Freeport employers will be able to pay less national insurance for all new workers, from April 2022.
Companies can also benefit from Duty inversion; this means that a company which manufactures in the Freeport before shipping to the UK domestic market will pay lower import duties. Duty exemption for re-exports is an added benefit as the import of goods to the Freeport, manufacture in the Freeport and subsequent export of a finished product would not involve UK import duties at any stage.
When overseas trade is a new venture
For any company, developing business relationships outside the UK is a big step, and it can seem daunting. There can be language and cultural barriers to overcome, and there is the challenge of making or receiving payments through unfamiliar systems and in foreign currencies.
When they need to make an international payment, many companies simply turn to their bank. As payments become more frequent however, it pays to go to a specialist foreign exchange supplier, where the transactions will be in the hands of experts who really understand foreign exchange and overseas banking systems. Their knowledge and experience can make payments quicker and smoother. For example, they will make sure the fastest possible routing is used, so that payments arrive the next day and don't run the risk of being held up in remote banking systems. They will also be on hand with advice and guidance, so their customers can make informed decisions and be fully in control.
Ensure peace of mind when dealing in foreign currencies
Currency risk cannot be overlooked when businesses are trading internationally, and it is important to protect your bottom line profits against movements in exchange rates. Having the right forex partner will help your company to develop a bespoke currency risk management strategy that is right for your business. This means your cashflow can be more stable, your business forecasts more reliable and your profits better protected.
Your currency exchange partner should also be committed to compliance and experienced in international payments across the globe. They should be able to support your teams and help you keep abreast of constantly changing international regulations.
Western Union Business Solutions – putting you in control of your international transactions
At Western Union Business Solutions, we are trusted by more than 60,000 businesses to move money around the world, and we can help you to develop an international trade strategy that really works for you.
Our extensive global network, spanning 200 territories and 130 currencies, combined with our knowledge of local markets mean that companies around the world count on us as their global payments partner. With fast, cost-effective payment solutions and customised cash management strategies, we help organisations of any size and in any industry achieve solid results.
Chris Shirling-Rooke continued: 'As a provider of payment services across borders and currencies, Western Union Business Solutions is a trusted partner to maritime businesses in the UK. We are happy to have partnered with them particularly at this time, because their expertise in currency exchange can help our members to better manage currency risk, and simplify international payments. For the drive and ambition of 'Global Britain' to become a reality, businesses tell us that they want access to the best possible, trusted and specialist support. Our confidence in Western Union Business Solutions means we have no hesitation in recommending our members and partners utilise their expertise too."
Your partner in international payments
If you are looking for world class business and cross-border payments services, or counsel on Freeports and what they could mean for you, please contact our partnerships team at partners@westernunion.com. We'll be more than happy to talk about how we can help you protect your payments and grow your business.